How to Buy and Sell Bitcoin (BTC) with Cash App
First you have to download the
Cash App
from the Android or Apple app store.
Download Here
Need To Deposit BTC Into Your Cash App? Click Here!
To Buy Bitcoin (BTC) in Cash App:
1. Open your Cash App, select Cash & BTC or the dollar amount at the top of your screen.
2. You can swipe left or select the BTC symbol in the upper right-hand corner.
3. Select Buy, you can use the slider or swipe up to enter the amount you'd like to purchase. Press Buy BTC.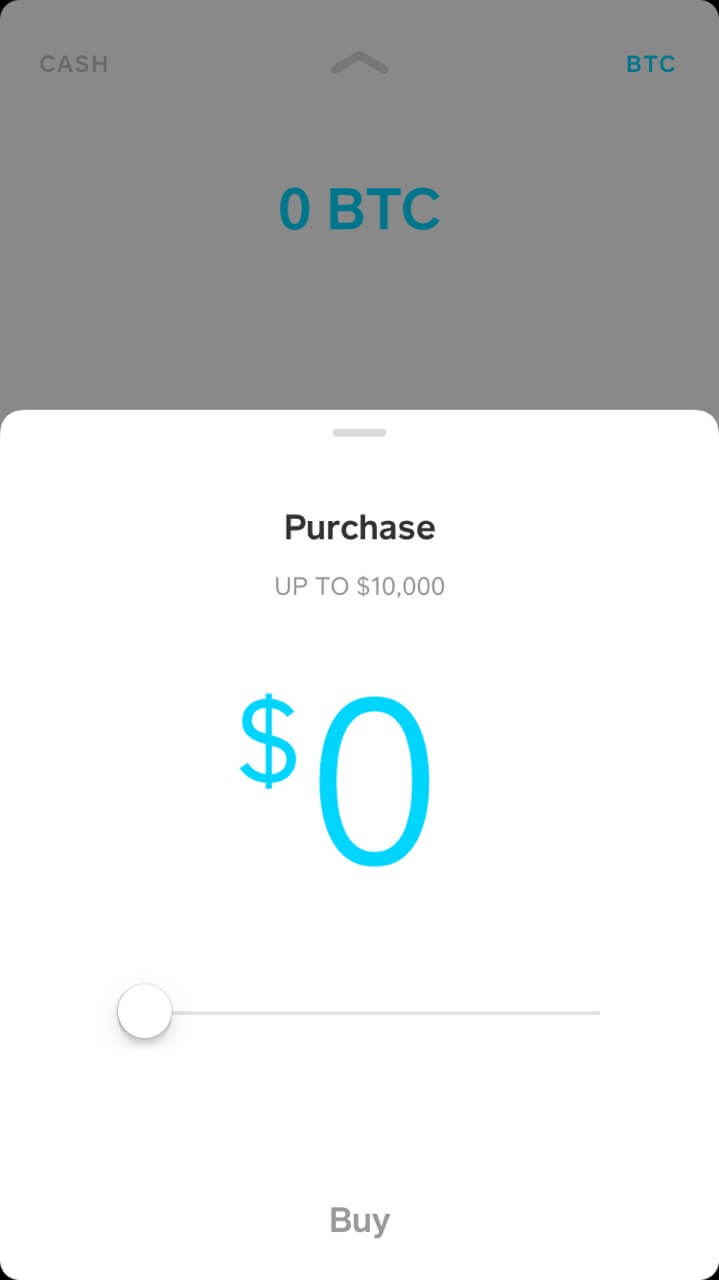 4. Enter your Cash pin or use your Touch ID for security. Press Confirm.
Note: Before you can purchase Bitcoin (BTC) Cash App will pull money into your balance. They may require you to enter some additional identification information.
To Sell Your Bitcoin (BTC) in Cash App:
1. Open your Cash App, select Cash & BTC or the dollar amount at the top of your screen.
2. You can swipe left or select the BTC symbol in the upper right-hand corner.
3. Select Sell, you can use the slider or swipe up to enter the amount you'd like to sell. Press Sell BTC.
4. Enter your Cash pin or use your Touch ID for security. Press Confirm.
FAQ
How much does buying and selling Bitcoin cost?
Cash App does not charge an additional percentage or fixed dollar amount. They use a price calculated from the quoted mid-market price, inclusive of a margin or speed. The mid-market price is a combined price of BTC across major exchanges to give the user an average price.
Note:  When you buy Bitcoin (BTC) from Cash App, the margin may differ from when you sell Bitcoin (BTC) to Cash App. The price and margin may also be different from other exchanges/marketplace.
Can you send Bitcoin (BTC) to an External Wallet?
Yes! To withdraw your Bitcoin to an external wallet follow the steps below:
Open your Cash App, Select the profile icon in the upper-left.

Scroll to Funds and Select Bitcoin.

Before you can withdraw your funds, you will need to verify your Identity.

Once you've verified your identity, Select "Transfer Out" and Press Confirm.

Scan the QR code from your external wallet or select "Use Wallet Address" at the bottom of your screen.

Press Confirm.
Note: Once you've processed your withdrawal in Cash App, your Bitcoin (BTC) will be sent to your external wallet. Transfering Bitcoin (BTC) can take time, so please allow up to a few hours for the transfer to complete.
How To Buy Bitcoin (BTC) With Your Paypal Account Step By Step Guide 2020
There are 26 million merchants that offer PayPal around the world. For those merchants, customers paying in crypto won't have any impact. Everything will be converted to fiat currency when a transaction is settled.
As part of today's (October 21st, 2020) move, PayPal has been granted a conditional BitLicense by the New York State Department of Financial Service. It should be able to launch its crypto service in partnership with Paxos in New York.
PayPal's crypto service is rolling out progressively. You can head over to PayPal's website and join the waitlist. Everybody should be able to access crypto-related features within the next month or so. The company has already updated its fees with more details about cryptocurrency exchange fees.
Learn How To Buy BTC with Cash App! Click Here!
PayPal Allows Bitcoin And Crypto Spending
PayPal has entered the cryptocurrency market, announcing that its customers will be able to buy and sell Bitcoin and other virtual currencies using their PayPal accounts.
Those virtual coins could then be used to buy things from the 26 million sellers which accept PayPal, it said.
PayPal plans to roll out buying options in the US over the next few weeks, with the full rollout due early next year.
Bitcoin prices rose alongside the news, breaking the $12,000 (£9,170) mark.
The other cryptocurrencies to be added first will be Ethereum, Litecoin, and Bitcoin Cash (a spin-off from Bitcoin).
All could be stored "directly within the PayPal digital wallet", the company said.
'Penny stocks'
Cryptocurrencies have remained a niche payment method, partly down to the rapid change in prices they can experience compared with traditional state-backed currencies. That has made them popular among some types of investors.
PayPal said it was aiming "to increase consumer understanding and adoption of cryptocurrency".
"As part of this offering, PayPal will provide account holders with educational content to help them understand the cryptocurrency ecosystem," it said.
But David Gerard, author of Attack of the 50 Foot Blockchain and the forthcoming Libra Shrugged: How Facebook Tried to Take Over the Money, said PayPal was describing "a crypto day-trading market".
"I'm at a loss as to who the market is for PayPal as a crypto-exchange," he said.
He likened it to playing the stock market, but with Bitcoin – whose volatile and less well-regulated nature was like "gambling on penny stocks".
"Have a flutter, drop $10 on it, you'll learn things you wouldn't learn any other way – but you are gambling," he warned.
He said there were "a lot of big players who manipulate the price", and ordinary people risked losing their money.
"I don't expect much of a market for this beyond existing crypto holders… I'm baffled that PayPal would offer this, and it's not clear what they're trying to do here," he said.
"There must be someone at PayPal who is very interested in cryptocurrencies," he added.
Paying with crypto
Other payment firms, such as Square's Cash app and Revolut, have already offered cryptocurrencies for sale. But PayPal has one of the largest merchant networks in the world.
When it comes to using the virtual coins, PayPal will convert the cryptocurrency into the relevant national currency, so the company being paid will never receive the virtual coins – just the correct amount of pounds or dollars.
PayPal said the system meant there would be "certainty of value and no incremental fees".
But using Bitcoin to pay at ordinary merchants is not due to launch until "early 2021".
Cryptocurrencies' volatile prices – along with their historical use as a less traceable payment method for illegal purposes – have led to numerous calls for them to be regulated.
PayPal has been granted permission for its operation from the New York State Department of Financial Services, in the form of a conditional "Bitlicence" – the first such licence granted.
To begin with, the service will work with an existing cryptocurrency provider in the US, the Paxos Trust Company.
But it is not PayPal's first venture into the area.
The scheme was controversial, attracting attention from financial regulators in several countries.
187,000 BTC Drained: Over $2 Billion in Bitcoin Leave the Top Exchanges Since June
Cryptocurrency reserves held on digital asset exchanges have been dropping to new lows, as some of the top exchanges have seen significant bitcoin reserve balance drops. A few months ago trading platforms had a lot more bitcoin reserves on hand and onchain data shows a few exchanges have seen customers steadily drain 187,000 bitcoins ($2.1B) from exchange-owned cold wallets.
In February, Coinbase had 1 million bitcoin under management and today reserves are down over 9% as 92,000 bitcoin ($1B) has left the exchange. Today, according to Bituniverse's online exchange balance rank tracker, the San Francisco trading platform has 908,560 BTC under management.
36,000 BTC ($408M) left Coinbase since news.Bitcoin.com's reserves report published on June 30, 2020. A number of top exchanges below Coinbase have also seen cold wallets drained during the last three months.
The second-largest exchange in terms of bitcoin reserves held is Huobi and the trading platform is down over 53,000 BTC ($601M) since June 30. Binance's balances remained the same as the exchange holds 266,000 BTC today and three months ago, Binance held 269k BTC. Similarly, the fourth-largest reserve holder, Bitfinex, didn't see much movement in the last three months.
Three months ago, Okex had 240,000 BTC on hand but today, Okex only has 198,000 BTC in reserves. This means 42,000 BTC left Okex since June as 17.5% left the exchange in the last three months.
Statistics show out of the top five crypto trading platforms over 187,000 BTC ($2.1B) has left these exchanges since the June report.
Just recently, Bitmex had some legal troubles with the U.S. government and since the incident, a lot of bitcoin has left the derivatives exchange. Three months ago Bitmex had 224 BTC in reserves and today the exchange only has 113,000 in cold storage. Onchain data indicates Bitmex lost a whopping 49.55% in BTC reserves since June 30.
At the time of publication, Glassnode's "Exchange Balance vs. Bitcoin" stats show that there's 2.7 million BTC held on exchanges today. Glassnode's stats indicate that out of the 21 million BTC cap, exchanges hold 12.85% of all that will exist, and 14.59% of the 18.5 million BTC in circulation.
1.8 million BTC out of the aggregate 2.7 million BTC held on exchanges sits in the world's top five crypto trading platforms. The top five custodial platforms by BTC reserve status include Coinbase, Huobi, Binance, Bitfinex, and Okex.
Exchange balances have been riding lower consecutively for the last 15 months and the last time balances were this low was around May 2019.
To many crypto enthusiasts and traders, the low balances on exchanges suggest users are storing assets in a noncustodial fashion as opposed to leaving funds with a third party. The data from Bituniverse and Glassnode also suggests that liquidity and selling pressure may lower.