How to Buy and Sell Bitcoin (BTC) with Cash App
First you have to download the
Cash App
from the Android or Apple app store.
Download Here
To Buy Bitcoin (BTC) in Cash App:
1. Open your Cash App, select Cash & BTC or the dollar amount at the top of your screen.
2. You can swipe left or select the BTC symbol in the upper right-hand corner.
3. Select Buy, you can use the slider or swipe up to enter the amount you'd like to purchase. Press Buy BTC.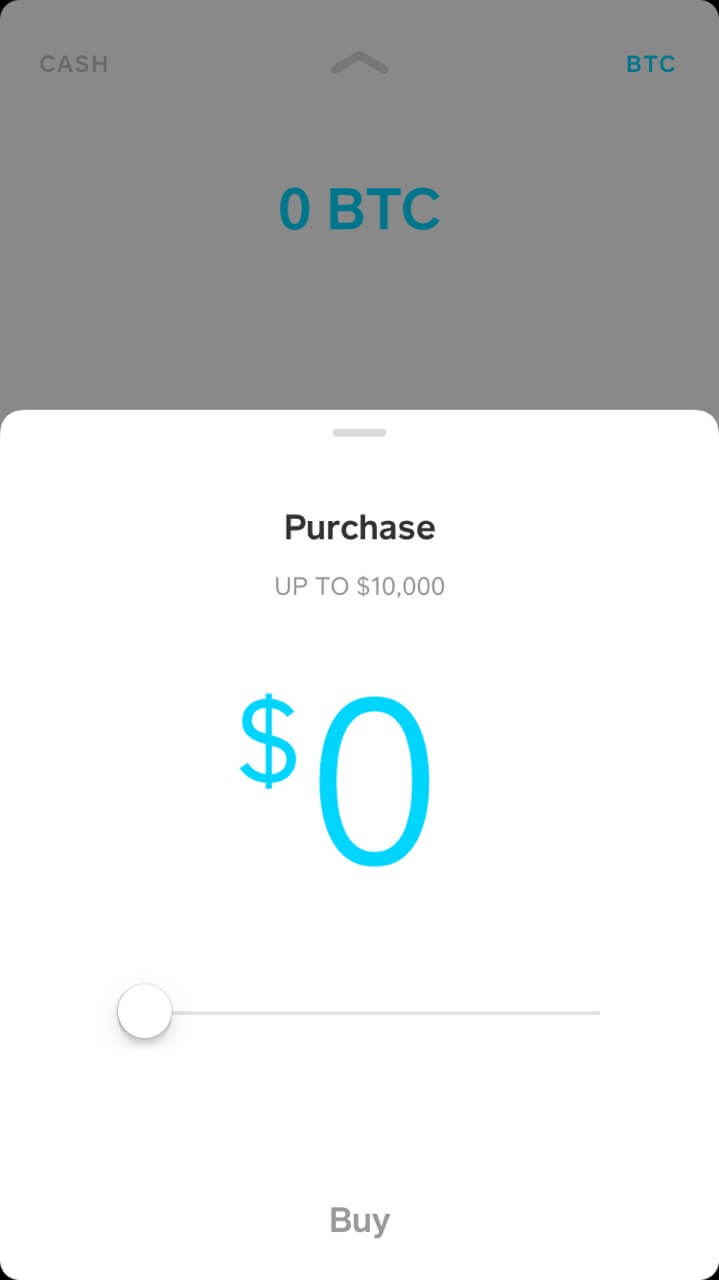 4. Enter your Cash pin or use your Touch ID for security. Press Confirm.
Note: Before you can purchase Bitcoin (BTC) Cash App will pull money into your balance. They may require you to enter some additional identification information.
To Sell Your Bitcoin (BTC) in Cash App:
1. Open your Cash App, select Cash & BTC or the dollar amount at the top of your screen.
2. You can swipe left or select the BTC symbol in the upper right-hand corner.
3. Select Sell, you can use the slider or swipe up to enter the amount you'd like to sell. Press Sell BTC.
4. Enter your Cash pin or use your Touch ID for security. Press Confirm.
FAQ
How much does buying and selling Bitcoin cost?
Cash App does not charge an additional percentage or fixed dollar amount. They use a price calculated from the quoted mid-market price, inclusive of a margin or speed. The mid-market price is a combined price of BTC across major exchanges to give the user an average price.
Note:  When you buy Bitcoin (BTC) from Cash App, the margin may differ from when you sell Bitcoin (BTC) to Cash App. The price and margin may also be different from other exchanges/marketplace.
Can you send Bitcoin (BTC) to an External Wallet?
Yes! To withdraw your Bitcoin to an external wallet follow the steps below:
Open your Cash App, Select the profile icon in the upper-left.

Scroll to Funds and Select Bitcoin.

Before you can withdraw your funds, you will need to verify your Identity.

Once you've verified your identity, Select "Transfer Out" and Press Confirm.

Scan the QR code from your external wallet or select "Use Wallet Address" at the bottom of your screen.

Press Confirm.
Note: Once you've processed your withdrawal in Cash App, your Bitcoin (BTC) will be sent to your external wallet. Transfering Bitcoin (BTC) can take time, so please allow up to a few hours for the transfer to complete.

Not Many Good Grades For Cryptos
One ratings agency is applying grades to some cryptocurrencies and, for the most part, this is not a report card to be posted on your parents' refrigerator.
Weiss Ratings, an independent ratings agency that assigns letter grades to about 55,000 institutions and investments, including nearly all of the nation's insurance companies, banks, credit unions, stocks, ETFs and mutual funds, recently published grades on 93 digital currencies. That is a small slice of the overall alt-coin universe, which is home to more than 1,500 coins.
In its most recent report, a follow up to its initial grades released in January, Weiss Ratings upgraded bitcoin to a grade of B- from C+.
"Cryptocurrencies do not have to achieve an A grade to merit interest by investors. A 'B' or even 'B-' also qualify as the investment rating equivalent to 'buy.' At the same time, investors should not be overly alarmed by a 'C' rating. It is a passing grade; and for investors, implies the equivalent of 'hold,'" according to Weiss.
Inside The Grades
Just 14 of the cryptos graded by Weiss landed grades of B or B- while 54 received C ratings. Among those in the B category are EOS, ADA and DCR. Those with B- ratings include bitcoin, ethereum, IOTA, Ripple and STEEM, among others.
Among the well-known cryptos in the Weiss C category are bitcoin cash, dogecoin, litecoin and siacoin, among others.
"The new world of cryptocurrencies has delivered astonishing profits to investors and holds great promise for the future," according to Weiss. "Millions of new investors have rushed in. Hundreds of self-declared experts have appeared to advise them. But the market suffers from lax standards, murky operators, marketing hype, and periodic market crashes. It desperately needs the clarity that only robust, impartial ratings can provide."
The ratings agency offered a fair view of bitcoin.
"Bitcoin (rated C+) gets excellent scores for security and widespread adoption," said Weiss. "But it is encountering major network bottlenecks, causing delays and high transactions costs. Despite intense ongoing efforts that are achieving some initial success, Bitcoin has no immediate mechanism for promptly upgrading its software code."
Bitcoin Bull Stands by His Call
It takes some temerity to stand by a bullish call when a security is looking increasingly bearish. Give Fundstrat's Tom Lee some credit for sticking by his recently bullish view on bitcoin.
At this writing Wednesday, bitcoin was down more than 8% and barely clinging to the $7,550 level, giving the largest digital currency a market capitalization of $128.83 billion. After surging 35% in April, prompting some traders to opine that $10,000 was coming, bitcoin prices have been slammed this month, stoking speculation of a new bear market.
"I think the chart is pretty scary for folks because bitcoin was $20,000 in December and it's less than half that now," said Lee in an interview with CNBC. "But the reason is investors should care about this is, number one, the notion of blockchain as a way to solve trust in the digital world has gained a lot of traction. What investors aren't connecting is that we can't necessarily say 'I believe in the blockchain.' Bitcoin and cryptocurrencies are essential to how blockchains operate."
Lee recently said bitcoin could rise to $25,000 as soon as later this year.
Lots Of Challenges
To be fair, Lee is not the only bitcoin bull. In fact, some recent forecasts from other market observers call for the digital currency to rise well into the six figures.
Regardless of the upside call, bullish views on digital currencies currently face myriad challenges. On Wednesday, each of the 30 largest alt-coins by market value finished lower during the U.S. trading session and of those 30, 24 finished with double-digit losses.
"The case I'd make for bitcoin is, number one, the cost of producing and replicating bitcoin today as a store of value is around $8,000 fully loaded so bitcoin is trading around cost," said Lee. "Gold as another store of value is trading more than twice its extraction cost."
Lee also highlights the potential for institutional investors to play a significant role in the digital currency market. The strategist said institutional investors are increasingly interested in cryptocurrency as an asset class, but they have not moved into crypto in a big way due to regulatory uncertainty.
"That sort of ultimate allocation into crypto as an asset class is going to be a powerful reason why bitcoin rallies," said Lee.
Lee stands by the $25,000 forecast for bitcoin.
A Bullish Call on Bitcoin Cash
Bitcoin cash often goes overlooked relative to bitcoin, but at least one cryptocurrency market expert believes the former is the place to be among digital currencies.
Brian Kelly, who is founder and CEO of BKCM, an investment firm focused on digital currencies, "said Monday bitcoin cash is the must-own digital currency of the moment," reports CNBC. "On Saturday, bitcoin cash miners met to discuss funding for a bitcoin cash development fund, he told CNBC."
As of this writing Tuesday, Bitcoin cash has a market capitalization of $19.86 billion, making it the fourth-largest digital currency behind bitcoin, ethereum and ripple.
"Bitcoin Cash brings sound money to the world, fulfilling the original promise of Bitcoin as 'Peer-to-Peer Electronic Cash.' Merchants and users are empowered with low fees and reliable confirmations. The future shines brightly with unrestricted growth, global adoption, permissionless innovation, and decentralized development," according to BitcoinCash.org.
More About The Trade
"In the fund, miners are "going to take some of the rewards they get from mining and put it in a fund to build stuff on top of bitcoin cash," Kelly said in an interview with CNBC.
Kelly is a note cryptocurrency market expert and he recently introduced an actively managed exchange traded fund (ETF) dedicated to companies with exposure to blockchain technologies. The REX BKCM ETF (NYSEArca: BKC), which is a partnership between Rex Shares and BKCM Funds, debuted last week.
"Bitcoin probably won't be the only winner. There could be plenty of winners as this new world unfolds—among cryptocurrencies, hardware makers, and businesses that learn to capitalize on the blockchain," said Kelly in a recent blog post.
Kelly manages a long/short hedge fund focusing on Bitcoin, Ethereum, Stellar, Monero, Litecoin, and other digital currencies.