Coin Spotlight: Ardor (ARDR)
What is Ardor (ADRD)?
Ardor is multi blockchain platform built with NXT technology. It is a blockchain as services (BaaS) meaning, it allows companies to create their own blockchains on the Ardor platform. This allows companies to create blockchains without having to invest in infrastructure or developers.
Their vision
Ardor aims to be one of the top choices for companies and organizations to address their blockchain needs.
What does Ardor (ARDR) do?
Ardor uses NXT technology to allow them to separate the network and security chain (Ardor Parent Chain) from the transactional chains (Child Chains.) Since it uses NXT technology it provides all child chains the ability to issue assets, trade on exchanges, ability to hold public and private polls, set conditional transactions, set up multisig security, and send encrypted messages.
Ardor still processes and secures all transactions using the altcoin ARDR, by using what's called the bundling system. This allows companies to process their child chain transactions in their own coin while paying transaction fees to the parent chain in ARDR coin. Because of this unique feature, it allows all child chains to interact with one another, creating interoperability between the different child chains.
Notable features:
Unlimited Scalability

Safe Smart contracts using NXT technology

Child Chains: a light blockchain that can be customized

Interoperability: All child chains can interact with each other
Useful Links:

33 CryptoCurrencies In 4 Words Or Less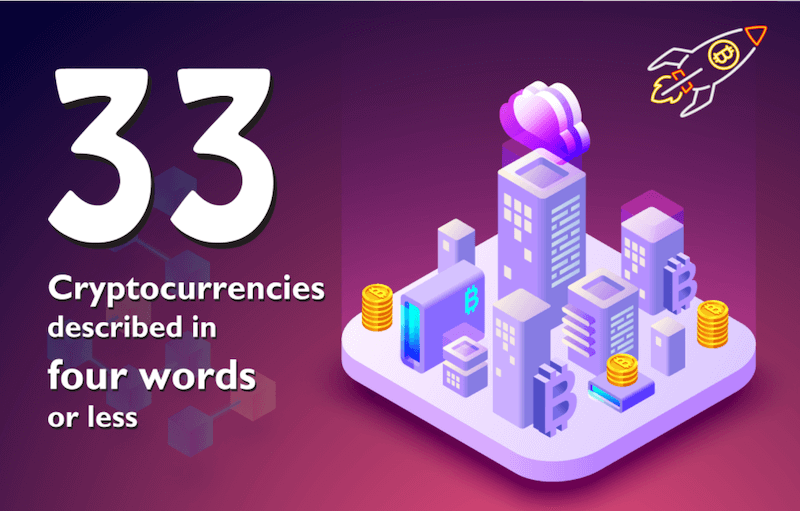 We put together this list to describe the top cryptocurrencies that are worth your time in 2019.
Each gets four words. There are many!
Hopefully this provides orientation.
Scroll Down To View An Awesome Infographic from MrBtc.org!
Name            | Sym.  | Description                              
----------------|-------|------------------------------------------
Bitcoin         | BTC   | Digital gold                             
Ethereum        | ETH   | Programmable contracts and money         
Bitcoin Cash    | BCH   | Bitcoin clone                            
Ripple          | XRP   | Enterprise payment settlement network    
Litecoin        | LTC   | Faster Bitcoin                           
Dash            | DASH  | Privacy-focused Bitcoin clone            
NEO             | NEO   | Chinese-market Ethereum                  
NEM             | XEM   | Batteries-included digital assets        
Monero          | XMR   | Private digital cash                     
Ethereum Classic| ETC   | Ethereum clone                           
IOTA            | MIOTA | Internet-of-things payments              
Qtum            | QTUM  | Ethereum contracts on Bitcoin            
OmiseGO         | OMG   | Banking, remittance, and exchange        
Zcash           | ZEC   | Private digital cash                     
Lisk            | LSK   | Decentralized applications in JavaScript 
Cardano         | ADA   | Layered currency and contracts           
Tether          | USDT  | Price = 1 USD                            
Stellar Lumens  | XLM   | Digital IOUs                             
EOS             | EOS   | Decentralized applications on WebAssembly
Stratis         | STRAT | Decentralized applications in C#         
Electroneum     | ETN   | Monero clone                             
Bytecoin        | BCN   | Privacy-focused cryptocurrency           
Ardor           | ARDR  | Blockchain for spawning blockchains      
Binance Coin    | BNB   | Pay Binance exchange fees                
Augur           | REP   | Decentralized prediction market          
Decred          | DCR   | Bitcoin with alternative governance      
TenX            | PAY   | Cryptocurrency credit card               
BitShares       | BTS   | Decentralized exchange                   
Golem           | GNT   | Rent other people's computers            
PIVX            | PIVX  | Inflationary Dash clone                  
TRON            | TRX   | In-app-purchases                         
Vertcoin        | VTC   | Bitcoin clone                            
MonaCoin        | MONA  | Japanese Dogecoin



Coin Spotlight : STORM (STORM)
Coin Spotlight: STORM (STORM)

What is Storm?
Storm Market creates more earning opportunities for people all around the world by utilizing technology. We make it easier for members to find new ways to earn, engage, and advance with our gamified micro-task platform for STORM tokens.
Their vision:
Storm Market is changing the way that people all around the world earn with one simple motto: earn from anywhere, at any time, from any device. Blockchain enables micro-transactions to be carried out in an efficient manner. The difference is around human-centric user interfaces and experiences. Our gamified micro-task platform creates an engaging user experience that encourages active participation with the STORM token community.
What does STORM do?
Blockchain enables the efficient matching of Storm Players to Storm Makers to: perform micro-tasks in 5 minutes or less, from any mobile device, and people being rewarded for performing the task. The Storm contracts (smart contracts) enforce these terms for the length of the contract's engagement. The automation of enforcing the terms of the engagement and payment to participants with little to no human intervention provides an efficient system where fees are reduced, and with faster turnaround times.
Notable features:
GLOBAL – Addressing the global needs of the eligible existing workforce of 4.68 billion people
SECURE – A trustless network powered by Ethereum Smart Contracts for micro-tasks
ACCESSIBLE – Mobile first design approach to help people earn more STORM tokens, from anywhere, and at any time
COMMUNITY – Over 1.4 million downloads, and growing 250,000 monthly active users, in addition to the STORM token community
Useful Links:
Coin Spotlight: Binance Coin (BNB)
What is Binance Coin (BNB)?
Binance Coin (BNB) is the native ERC20 token (Built on Ethereum) for cryptocurrency exchange Binance.
Their vision
Binance Coin (BNB) is designed to make trading more affordable for Binance users.
What does Binance Coin (BNB)do?
Binance Coin (BNB) allows Binance users to receive a discount on exchange fees. While users can still pay the exchanges fees in cryptocurrency, using BNB provides a discount of up to 50% for your first five years of trading on the platform.
Notable features:
First year offers a 50% discount on fees

Second year offers a 25% discount on fees

Third year offers a 12.5% discount on fees

Fourth year offers a 6.75% discount on fees

Fifth year offers no discount on fees
Useful Links: