Interview with "CZ -The most powerful man in Crypto" talks Binance, Mining & Lifestyle
Here is @cryptomanran's recent interview with CZ, the founder & CEO of Binance, the largest and most powerful crypto exchange in the world. Is CZ the most powerful man in crypto right now? Comment below and let us know what you think!
Binance CEO Makes Rare Price Prediction On When To Buy Bitcoin
Bitcoin, along with the surging wider cryptocurrency market, has had an incredible start to the year.
The bitcoin price has rallied around 50% since January 1, with some smaller cryptocurrencies making surprise triple-digit percentage gains, and many bitcoin bulls think it still has further to go—though problems could be on the horizon.
Now, Changpeng Zhao, the widely-respected founder and chief executive of the world's biggest bitcoin and cryptocurrency exchange Binance, has broken his rule against market forecasting to predict "the bitcoin price will likely increase."
"I personally believe the halving has not been priced in," Changpeng Zhao, often known simply as CZ, told bitcoin, cryptocurrency and blockchain video news site BlockTV this week, adding he "doesn't usually give market predictions" because he will be wrong "50% of the time."
Bitcoin traders and investors have begun gearing up for the looming May bitcoin halving event, among other positive bitcoin developments expected this year, when the coin reward for mining new bitcoin blocks is scheduled to drop from 12.5 bitcoin to 6.25 bitcoin–cutting the supply of new bitcoin coming onto the market by half.
There have already been two bitcoin halvings since bitcoin launched in 2009, one in 2012 and another in 2016. Bitcoin halvings are scheduled to continue roughly once every four years until the maximum supply of 21 million bitcoins has been generated by the network, something that won't happen until well into the next century.
Whether the upcoming bitcoin halving has been "priced in" by the market has become a controversial issue among investors. Generally, in well-developed markets, equity, commodities and currencies are priced based on future expectations—suggesting that as bitcoin traders and investors are aware of the May halving, the price will have already made the gains related to it.
CZ disagrees, however, telling BlockTV: "The market is not efficient. Most people don't get information quickly. People need a lot of time to let concepts sink in and adjust."
Many are hoping the 2020 bitcoin halving will see a repeat of the last cut to supply. Bitcoin prices doubled in 2016 and soared 13-fold the following year.
However, CZ warned that "historic events do not predict future events, so don't take that too literally," but explained the bitcoin halving will mean "it costs miners almost double what it does now to produce one bitcoin. Psychologically, those miners won't be willing to sell below that price."
"New bitcoin coming to market will be severely limited and at the same time we're seeing more users and traders coming in."
"Economic theory tells us that the bitcoin price will likely increase but this is just the theory and hard to predict," CZ said, adding he's feeling "pretty positive."
Meanwhile, the number of people searching Google for the term "bitcoin halving" has been steadily rising along with the bitcoin price.
Analysts at Arcane Research found last month that an increase in searches could be a sign bitcoin's halving will recapture the wider public interest in bitcoin and crypto that catapulted the bitcoin price to around $20,000 in 2017.
Many other bitcoin and cryptocurrency market watchers share CZ's enthusiasm, though some think it could be other factors that push up the bitcoin price.
"I still think that bitcoin will hit $100,000 by end of December 2021," Anthony Pompliano, the cofounder of bitcoin and crypto investment group Morgan Creek Digital, said last month, pointing to bitcoin's "fixed supply" and "increasing demand" as the reason for bitcoin's performance.
Elsewhere, others are not so upbeat—with the the chief executive of China-based investment advisory group RockTree Capital last month forecasting we could see the bitcoin price dip.
33 CryptoCurrencies In 4 Words Or Less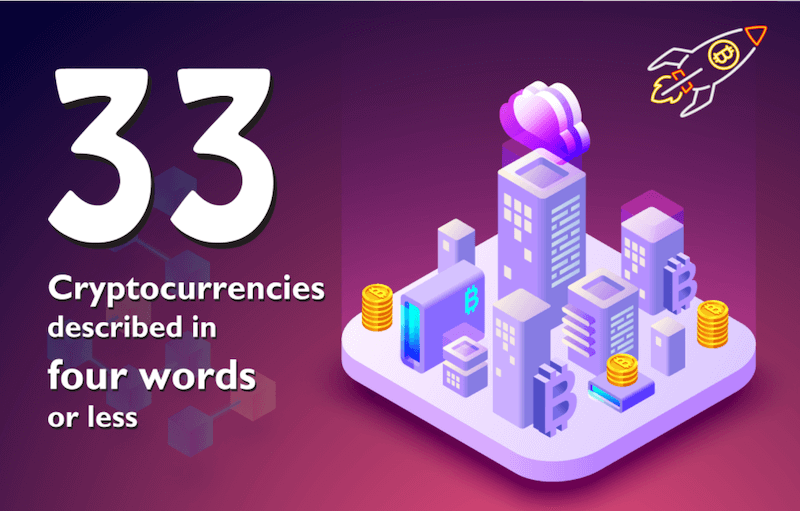 We put together this list to describe the top cryptocurrencies that are worth your time in 2019.
Each gets four words. There are many!
Hopefully this provides orientation.
Scroll Down To View An Awesome Infographic from MrBtc.org!
Name            | Sym.  | Description                              
----------------|-------|------------------------------------------
Bitcoin         | BTC   | Digital gold                             
Ethereum        | ETH   | Programmable contracts and money         
Bitcoin Cash    | BCH   | Bitcoin clone                            
Ripple          | XRP   | Enterprise payment settlement network    
Litecoin        | LTC   | Faster Bitcoin                           
Dash            | DASH  | Privacy-focused Bitcoin clone            
NEO             | NEO   | Chinese-market Ethereum                  
NEM             | XEM   | Batteries-included digital assets        
Monero          | XMR   | Private digital cash                     
Ethereum Classic| ETC   | Ethereum clone                           
IOTA            | MIOTA | Internet-of-things payments              
Qtum            | QTUM  | Ethereum contracts on Bitcoin            
OmiseGO         | OMG   | Banking, remittance, and exchange        
Zcash           | ZEC   | Private digital cash                     
Lisk            | LSK   | Decentralized applications in JavaScript 
Cardano         | ADA   | Layered currency and contracts           
Tether          | USDT  | Price = 1 USD                            
Stellar Lumens  | XLM   | Digital IOUs                             
EOS             | EOS   | Decentralized applications on WebAssembly
Stratis         | STRAT | Decentralized applications in C#         
Electroneum     | ETN   | Monero clone                             
Bytecoin        | BCN   | Privacy-focused cryptocurrency           
Ardor           | ARDR  | Blockchain for spawning blockchains      
Binance Coin    | BNB   | Pay Binance exchange fees                
Augur           | REP   | Decentralized prediction market          
Decred          | DCR   | Bitcoin with alternative governance      
TenX            | PAY   | Cryptocurrency credit card               
BitShares       | BTS   | Decentralized exchange                   
Golem           | GNT   | Rent other people's computers            
PIVX            | PIVX  | Inflationary Dash clone                  
TRON            | TRX   | In-app-purchases                         
Vertcoin        | VTC   | Bitcoin clone                            
MonaCoin        | MONA  | Japanese Dogecoin



DOGECOIN Gets Listed On Binance, Skyrockets 30%!
Major cryptocurrency exchange Binance announced that today it will list dogecoin (DOGE) in a post on its website on July 5.
Starting at noon UTC today, the following dogecoin pairs will start being traded on the exchange: DOGE/BNB, DOGE/BTC, DOGE/USDT, DOGE/PAX, and DOGE/USDC. Furthermore, users can already deposit their dogecoin on the exchange in preparation for the trading.
As of press time, it looks like the coin in question reacted by reporting significant gains. DOGE is up about 31% over the last 24 hours, and most of the gains have been registered in about 30 minutes.
Interested In Purchasing DOGE Through Binance? Click Here To Sign Up For Binance!