Intel Could Make Bitcoin Mining Profitable Again
One of the biggest barriers to entry for small-time bitcoin miners is cost. Intel Corp. (NASDAQ:INTC), the largest U.S. semiconductor maker by market value, is looking to change that.
In a recent United States Patent Application, California-based Intel revealed plans for a unique hardware application dedicated to bitcoin mining. Intel originally filed a patent application for what is being deemed a Bitcoin mining hardware accelerator in September 2016.
Intel's bitcoin accelerator hardware would aim to make mining of the digital currency less energy intensive, potentially increasing profitability along the way.
More Details
"As opposed to physical currency systems backed on natural resources (e.g., gold), Bitcoins may be created by using software and hardware systems to solve a series of mathematical algorithms (e.g., Secure Hash Algorithm 256 (SHA-256))," according to Intel's patent application.
Bitcoin algorithms require massive processing capabilities, resulting in higher energy costs to miners.
"When the Bitcoin mining algorithms are solved in a way that satisfies certain predefined conditions, a new block is added to the blockchain and a certain number of Bitcoins are awarded to the miner; thereby introducing new Bitcoins into the eco-system," according to the patent application. "Bitcoin mining algorithms are inherently difficult to solve, and thus require large amounts of processing power. Because of the large amount of power utilized, and the relatively high cost of that power, mining Bitcoins can be a very costly endeavor. In some embodiments, the cost to mine a single Bitcoin may exceed the value of the mined Bitcoin."
Other Costs
Cryptocurrency miners face other costs, including graphics cards. The graphics cards, usually made by Intel rivals AMD Inc. (NASDAQ:AMD) and NVIDIA Corp. (NASDAQ:NVDA) were initially made for gamers, but demand for those cards surged as the digital currency universe grew. Demand for those cards has soared so much that they are becoming scarce, leading to skyrocketing costs for gamers and digital currency miners.
While cryptocurrencies are not traditional commodities, such as gold or oil, there are break-even prices associated with mining cryptos. When the price of those commodities fall, producers can opt to scale back production and wait for higher prices. For example, an oil company that breaks even at $40 per barrel, could consider reducing output when prices linger around $45 per barrel.
Today, some bitcoin miners may be facing a similar scenario. At this writing late Sunday night, bitcoin traded just over $6,900, well below its December highs around $20,000. Some market observers believer the break-even price for many bitcoin miners is $8,000, a price the largest digital currency has not touched since late March.

$19 million worth of Bitcoin (BTC) seized in dark web drug probe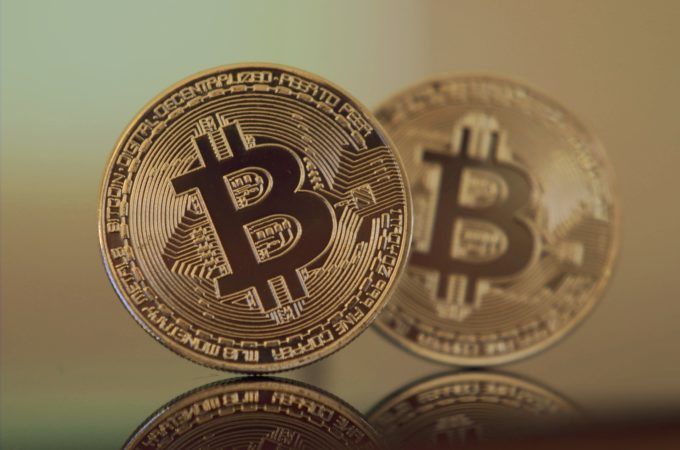 The U.S. government has seized $19 million worth of BTC from a drug trafficker, who allegedly laundered funds through the cryptocurrency on the original dark web marketplace known as "Silk Road."
The U.S. Attorney's Office for the Southern District of New York announced the news on Thursday, saying that the trafficker, Hugh Brian Haney, 60, was arrested near Columbus, Ohio. In 2017 and 2018, Haney allegedly transferred bitcoins representing drug proceeds he had earned through Silk Road to an account held at a company involved in the exchange of bitcoin and other cryptocurrencies. He claimed falsely that the source of these bitcoins was from mining.
Haney is charged with one count of concealment money laundering and one count of engaging in a financial transaction in a criminally derived property. The former count carries a maximum jail term of 20 years, while the latter a maximum term of 10 years.
Homeland Security Investigations (HSI) special agent-in-charge Angel M. Melendez said:
"HSI special agents employed blockchain analytics to uncover and seize bitcoins valued at $19 million and usher Haney out of the dark web shadows to face justice in the Southern District of New York."
"Cryptocurrency is a great idea" – Ron Paul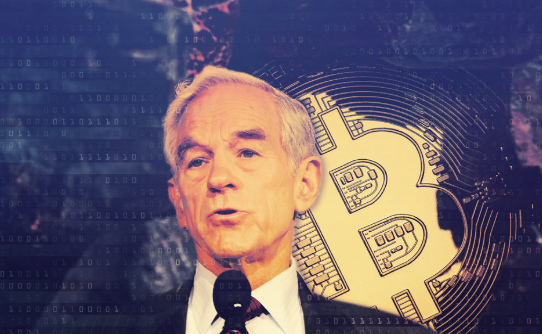 During a recent "Squawk Alley" interview, Former Republican congressman and presidential candidate, Ron Paul- discusses how he is in favor of cryptocurrencies as well as block change technology. Apparently, he enjoys competing currencies and believes they are a good idea. 
He also believes that the governments only have the right to step in to prevent fraud from taking place. In the interview, Paul states that, "the government has a role. And if somebody has a case that there is fraud, I think it should be investigated." Paul then goes on to state that what he wants to do "is legalize the freedom of choice, absent blatant fraud." Agreeably so, this is exactly the type of perspective that the crypto world needs.
Throughout the interview, Paul compares crypto to gold in many ways. He points out how both assets are competing with traditional fiat money. He discusses how our government has never been "very tolerant of competition, and they're not even tolerant with using the Constitution to compete with the fiat dollar. Because gold and silver, you can't use it." 
This isn't the first time that Ron Paul has discussed his views on crypto. Back in 2014, the Former Republican Congressman displayed his concerns about the foundation of crypto and Bitcoin. However, he acquired a bearish pro-crypto outlook on the future of fiat money. Paul believes that the dollar won't last long as "they all self-destruct." According to Paul, the only competition for the dollar is the euro and yen- which "isn't any good."
33 CryptoCurrencies In 4 Words Or Less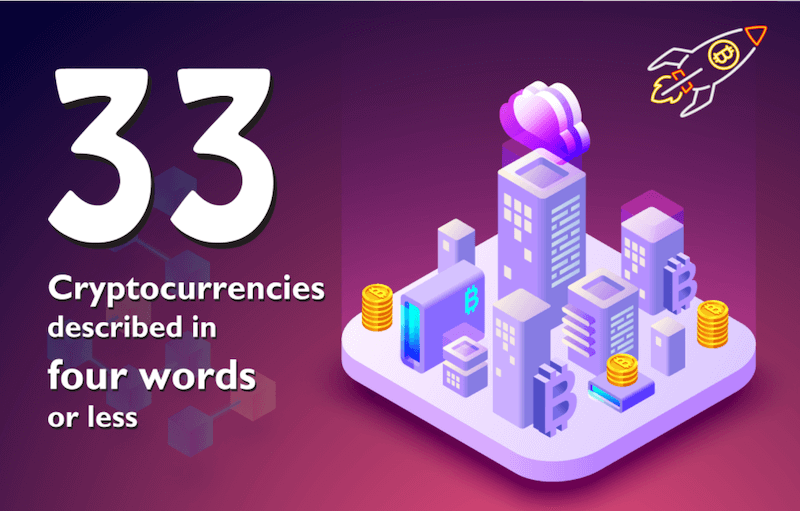 We put together this list to describe the top cryptocurrencies that are worth your time in 2019.
Each gets four words. There are many!
Hopefully this provides orientation.
Scroll Down To View An Awesome Infographic from MrBtc.org!
Name            | Sym.  | Description                              
----------------|-------|------------------------------------------
Bitcoin         | BTC   | Digital gold                             
Ethereum        | ETH   | Programmable contracts and money         
Bitcoin Cash    | BCH   | Bitcoin clone                            
Ripple          | XRP   | Enterprise payment settlement network    
Litecoin        | LTC   | Faster Bitcoin                           
Dash            | DASH  | Privacy-focused Bitcoin clone            
NEO             | NEO   | Chinese-market Ethereum                  
NEM             | XEM   | Batteries-included digital assets        
Monero          | XMR   | Private digital cash                     
Ethereum Classic| ETC   | Ethereum clone                           
IOTA            | MIOTA | Internet-of-things payments              
Qtum            | QTUM  | Ethereum contracts on Bitcoin            
OmiseGO         | OMG   | Banking, remittance, and exchange        
Zcash           | ZEC   | Private digital cash                     
Lisk            | LSK   | Decentralized applications in JavaScript 
Cardano         | ADA   | Layered currency and contracts           
Tether          | USDT  | Price = 1 USD                            
Stellar Lumens  | XLM   | Digital IOUs                             
EOS             | EOS   | Decentralized applications on WebAssembly
Stratis         | STRAT | Decentralized applications in C#         
Electroneum     | ETN   | Monero clone                             
Bytecoin        | BCN   | Privacy-focused cryptocurrency           
Ardor           | ARDR  | Blockchain for spawning blockchains      
Binance Coin    | BNB   | Pay Binance exchange fees                
Augur           | REP   | Decentralized prediction market          
Decred          | DCR   | Bitcoin with alternative governance      
TenX            | PAY   | Cryptocurrency credit card               
BitShares       | BTS   | Decentralized exchange                   
Golem           | GNT   | Rent other people's computers            
PIVX            | PIVX  | Inflationary Dash clone                  
TRON            | TRX   | In-app-purchases                         
Vertcoin        | VTC   | Bitcoin clone                            
MonaCoin        | MONA  | Japanese Dogecoin