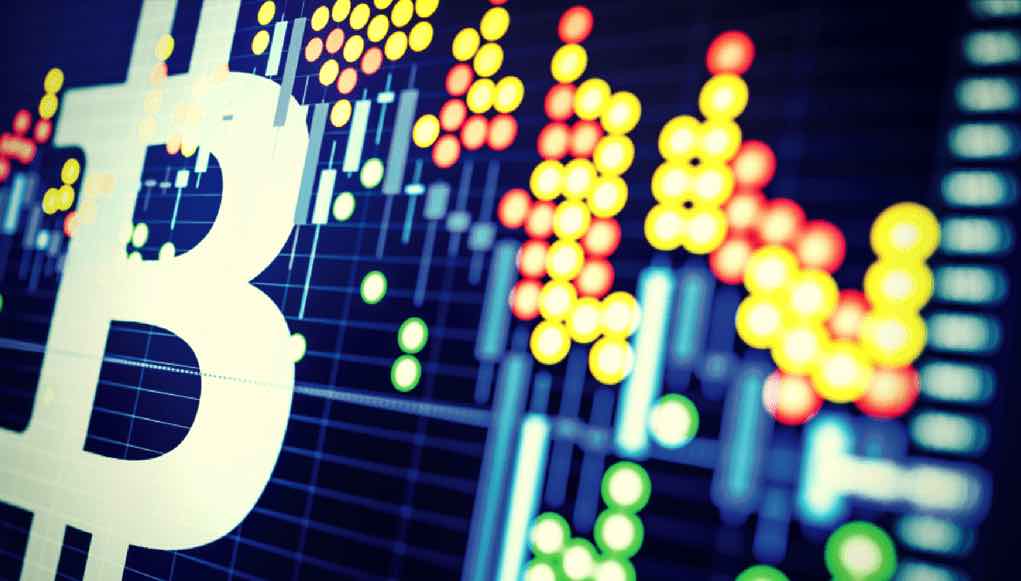 Bitcoin traded slightly lower Thursday and with the digital currency's recent rally, showing signs of stalling around the $9,000 area, some technical analysts are concerned the king of cryptocurrencies could be in for a near-term pullback.
After rallying from just over $6,900 earlier this month to over $9,200 earlier this week, a pullback would not be surprising and it would be, arguably, healthy. Additionally, some bitcoin price forecasts imply massive upside from current levels. Some bitcoin bulls believe the digital currency can rise to $25,000 this year. Others see $200,000 and higher being reached in just a few years.
Now this: John Pfeffer, a partner at UK-based Pfeffer Capital, said at the Sohn investment conference in New York that bitcoin could eventually be worth $700,000.
More Comments
"Bitcoin is the first viable candidate to replace gold the world has ever seen," Mr Pfeffer said, reports The Independent. "So if bitcoin becomes the dominant non-sovereign store of value, it could be the new gold, or new reserve currency."
Some market observers doubt bitcoin's ability to be a credible threat to gold, citing, among issues, lack of adoption of digital currencies as stores of value, gold's centuries-long reputation as a currency and a store of value and gold being significantly less volatile than digital assets.
"Mr Pfeffer said that if bitcoin displaced 25 per cent of foreign reserves, the total worth of the bitcoin network would be somewhere in the region of $6.4 trillion," according to The Independent.
Pfeffer is the first hedge fund manager to highlight cryptocurrencies at the famed Sohn conference. However, he also mentioned that the asset class carries significant risks and that outside of bitcoin, most other crypotcurrencies could potentially punish investors.
Over the near-term, market participants appear bullish on bitcoin, the largest digital currency. A recent survey of an albeit small group suggests 82% of those polled believe bitcoin has put in a near-term bottom.
Bitcoin Price Rallies 13% to Break Through $11,000
Within the last hour Bitcoin (BTC) price pushed through the $11,000 level in a high volume surge which saw the price reach a new 2020 high at $11,394.
At the time of publishing the price has pulled back slightly to the $11,150 range but purchasing volume continues to rise on the 1-hour timeframe. This suggests that the top-ranked digital asset on CoinMarketCap may have another go at the daily high.
Crypto market weekly price chart. Source: Coin360
As reported earlier by Cointelegraph, on-chain activity registered a significant spike in exchange inflow as Bitcoin price rallied above $10,000 and Bloomberg analysts now estimate that Bitcoin price will rise above $12,000 this year.
Ether price (ETH) also surged above its previous high by rallying to $333.52 but at the time of writing the top altcoin has pulled back below $330.
Bitcoin daily price chart. Source: Coin360
According to CoinMarketCap, the overall cryptocurrency market cap now stands at $326.7 billion. Bitcoin's dominance index currently at 63.1%.
Also, don't miss our upcoming conference Cointelegraph Crypto Traders Live.
More than 30 star speakers including Raoul Pal, John Bollinger, Mike Novogratz, DataDash and Jon Najarian will gather on July 30th to discuss the challenges of crypto trading. Join the show for over 9 hours of crypto trading content!
Did Satoshi Nakamoto Just Move 50 Bitcoin?
Key Takeaways
50 Bitcoin that haven't moved since 2009 were transacted today.
Some Bitcoin watchers speculate that these coins belong to Satoshi Nakamoto.
The coins were from Bitcoin mining around a month after the network was created.
BTC from the earliest days of the network moved today. Could Bitcoin creator Satoshi Nakamoto be behind the transaction?
Was Satoshi Behind a Recent Bitcoin Transaction?
A 50 BTC transaction representing a block reward from a month after the Bitcoin network launched moved today.
The coins were awarded for mining block 3,654. Several pundits have naturally associated that early mining activity with pseudonymous Bitcoin inventor Satoshi Nakamoto.
Others Are Unconvinced
The Block's head of research, Larry Cermak, believes the transaction is unrelated to Satoshi Nakamoto, identifying that there were several early miners on the Bitcoin network.
Blocks believed to have been mined by Satoshi have a particular pattern in their nonces, a cryptographic number that can help identify blocks. According to that pattern, these Bitcoin do not appear to have originated from Satoshi.
Another analyst noted that the transaction marks the first time that early 2009-origin Bitcoin has moved since August of 2017.
Nevertheless, on-chain sleuths will closely watch the path of the coins as the transaction was undoubtedly from an early Bitcoin miner and large holder. If these 50 BTC continue to move, then a lot more about this story will be revealed.
Bitcoin price rockets 23% as investors look for a new safe haven. 'The crypto king is on fire.'
Cryptocurrencies have seen a remarkable resurgence as investors flock to relative safe havens amid a flurry of quantitative easing measures by global central banks.
Central banks including the European Central Bank, Federal Reserve, and the Bank of England have announced asset-purchase schemes in recent days. Bitcoin, a finite cryptocurrency with only 21 million units in existence, has seen a 23% one-day surge. Bitcoin is currently up 21% as of 10.10 a.m. in London (6.10 a.m. ET), per Coindesk.
The cryptocurrency had been down 30% year-to-date amid a sell-off fueled by market uncertainty about the outbreak of coronavirus. However, investors may be looking to digital currencies in the wake of easing measures elsewhere. Other cryptocurrencies like ethereum, XRP, and bitcoin cash all saw major reversals by more than 15% over the same period.
"When it comes to bitcoin, the crypto king is on fire, and we have seen a decent rally," said Naeem Aslam, chief market analyst at AvaTrade, in a morning note.
"Given the fact that the price has crossed the $6,000 mark — an important level of resistance — the upward momentum is likely to pick up the pace, and if the price crosses the 200-day moving average on a daily time frame, it would be a huge buy signal."
Volumes at cryptocurrency exchanges have jumped, with Coinbase, Bitstamp, and Bitfinex combined seeing a 19% bump in 24-hour exchange volume, according to data aggregator CryptoCompare.