Nasdaq Is Open To Becoming Cryptocurrency Exchange ?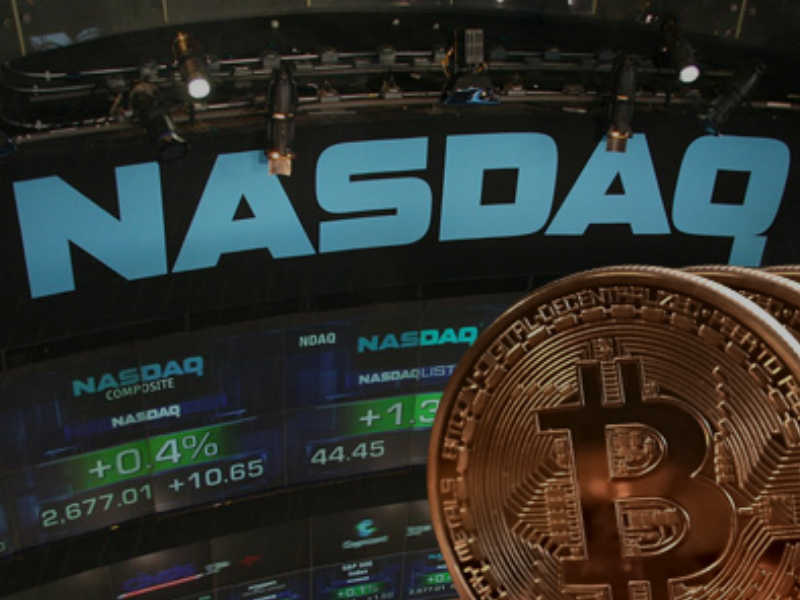 Nasdaq Inc., one of the world's largest operators of equity exchanges, said it would consider launching a cryptocurrency exchange in the future if the regulatory environment is conducive to such a move.
"The view that cryptocurrencies, such as bitcoin BTC=BTSP will be a future way to support commerce is becoming more mainstream, Nasdaq's Chief Executive Officer, Adena Friedman, said in an interview following the announcement of better-than-expected quarterly earnings," reports Reuters.
Previously, it has been reported that Nasdaq would join Cboe Group and CME in launching bitcoin futures. Cboe and CME did that in December with some market observers speculating Nasdaq could follow suit in the current quarter. Earlier this year, Nasdaq said it would like to introduce bitcoin futures that are different from rivals' offerings, but did not unveil a timeline for launch.
Waiting On Regulation
At the user level, part of the allure of digital currencies is the decentralized and unregulated nature of the business, but more regulations are required for financial services firms to get involved. Banks and exchange operators like Nasdaq are regulated at the federal level and the current lack of federal regulations pertaining to the cryptocurrency market makes it almost impossible for these companies to crypto trading services to clients.
"But the virtual currencies are still very lightly regulated. That is part of the appeal to many early adopters but would have to change in order for Nasdaq to operate a cryptocurrency exchange, Friedman said," according to Reuters.
On Wednesday, Nasdaq announced a surveillance partnership with Gemini. Gemini said "that over the coming months we will be implementing Nasdaq's SMARTS Market Surveillance technology to monitor our marketplace."
Gemini currently offers trading in biticoin and ethereum, but there has been some speculation the exchange could expand to offer other digital currencies. Currently, Gemini clients can trade the following pairs: BTC/USD, ETH/USD, and ETH/BTC.

Hackers Have Continued To Target Cryptocurrency Exchanges, And Little Can Be Done About It.
This month, the crypto trading platform Bitmart announced that hackers had stolen nearly $200 million after breaking into a company account.
It's not just about investors getting rich from cryptocurrencies.
Hackers have stolen billions of dollars in virtual assets from cryptocurrency exchanges during the last year by attacking some of the marketplaces that have developed throughout the bitcoin boom.
There have been at least 20 successful robberies of crypto exchanges or projects this year, totaling more than $10 million in digital currencies. In at least six cases, hackers stole more than $100 million, according to data compiled by NBC News. Bank robberies last year resulted in offenders pulling off an average of less than $5,000 per job, according to FBI statistics.
Despite the fact that these robberies have a large price tag, they do not usually have the same degree of drama or attention as traditional bank robberies. But cryptocurrency experts believe they provide a cautionary tale for would-be cryptocurrency investors: exchanges are now attractive targets for hackers.
"If you hack a Fortune 500 company today, you might steal some usernames and passwords," said Esteban Castaño, the CEO and co-founder of TRM Labs, a company that builds tools for companies to track digital assets. "If you hack a cryptocurrency exchange, you may have millions of dollars in cryptocurrency."
Modern-Day bank robbers
Cryptocurrencies, which were once an obscure technology requiring a high degree of technical knowledge to purchase, have evolved into a more accessible investment and speculation tool, prompting over 300 businesses to start up in recent years to provide individuals with an easy method to invest in and trade everything from bitcoin to less prominent "altcoins" like dogecoin and shibu.
Exchanges that trade cryptocurrencies work similarly to traditional money exchanges, establishing rates for various currencies and collecting a fee to enable trades. However, while several countries have tough rules in place, it is rather simple for technology entrepreneurs to establish an exchange almost anywhere throughout the globe and run it as they choose.
Cryptocurrencies, as the name implies, are decentralized, secure currencies. However, because cryptocurrency exchanges generally start with a small staff and few if any full-time cybersecurity specialists, they are especially vulnerable to cybercriminals. Their developers may work at breakneck speeds to get the code to run correctly, inadvertently creating vulnerabilities that allow hackers access.
Cryptocurrency exchanges keep many of their cryptocurrencies in so-called cold wallets, which are stored securely offline. Everything else is kept in "hot wallets," which are liquid and can be sent to clients. That means if a hacker compromises a staff member's account — a frequent internet security breach – they may pull off a large theft, according to Dave Jevans, the founder of CipherTrace, a company that tracks theft and fraud in cryptocurrencies.
"If you steal the private keys to a hot wallet, it's not like stealing a database of people's names and Social Security Numbers," Jevans said. "You've just basically stolen all their money."
If an exchange has adequate funds and plans ahead to create an emergency fund, it can reimburse customers if its system is assaulted, according to Jevans. If not, they are generally forced out of business.
"Not every exchange is so wealthy or has so much foresight. It just goes, pop, 'We're out of business. Sorry, you're all screwed,'" he said.
Recent Cryptocurrency Exchange Hacks
In early December, when the cryptocurrency trading platform Bitmart announced that hackers had stolen almost $200 million from a firm account, one of the most significant robberies that has occurred. The firm shut down client transactions for three days before allowing them to resume trading their money.
The problem is made worse by the fact that many cryptocurrency projects, in order to avoid government controls, operate from nations where law enforcement agencies have little power to go after transnational hackers. Or if they are hacked, they are less likely to ask for government assistance on principle because of their beliefs, according to Beth Bisbee, CEO of Chainalysis a company that tracks cryptocurrency transactions for both private companies and government agencies.
"Some people want to be anti-bank and anti-oversight," Bisbee said. "They're not necessarily wanting to work with law enforcement, even though they'd be considered a victim and it'd be beneficial for them to do so."
Keeping A Low Profile
Exchange hacks, unlike bank robberies of old, don't have the same characteristics that made them front-page news in the past. Despite their significant dollar amounts, public attention to these breaches may be limited. The majority of exchange hackers are not caught, leaving customers with little closure. There is rarely any physical evidence or real-world aftermath like traumatized bank tellers or perp walks.
Some hacks, however, have pleasant endings. A hacker stole $600 million from the cryptocurrency platform Poly Network in a strange, public occurrence. Instead of blaming the thief, Poly Network instead appealed to his better nature by calling him "Mr. White Hat," which is a cybersecurity term for a researcher working to make things more secure. Poly Network thanked him for exposing a flaw in its code and asked for the money back. The hacker eventually relented and returned it all.
When big law enforcement organizations tackle a major cryptocurrency breach, they typically attempt to track down every lead, which is a time-consuming procedure that moves much slower than the offenders they're pursuing.
Europol has been of an increase in data breaches, including those that involve hackers stealing digital assets. However, forming a strong case is a time-consuming and laborious process that doesn't keep up with the rate of attacks.
"We have a slew of investigations in progress right now," Georges added. "They take a long time to complete because we also want to dismantle the entire criminal network," she continued. "These instances frequently crossover with one another.
"They might go on indefinitely," she added. "These inquiries generally take a long time."
Did Satoshi Nakamoto Just Move 50 Bitcoin?
Key Takeaways
50 Bitcoin that haven't moved since 2009 were transacted today.
Some Bitcoin watchers speculate that these coins belong to Satoshi Nakamoto.
The coins were from Bitcoin mining around a month after the network was created.
BTC from the earliest days of the network moved today. Could Bitcoin creator Satoshi Nakamoto be behind the transaction?
Was Satoshi Behind a Recent Bitcoin Transaction?
A 50 BTC transaction representing a block reward from a month after the Bitcoin network launched moved today.
The coins were awarded for mining block 3,654. Several pundits have naturally associated that early mining activity with pseudonymous Bitcoin inventor Satoshi Nakamoto.
Others Are Unconvinced
The Block's head of research, Larry Cermak, believes the transaction is unrelated to Satoshi Nakamoto, identifying that there were several early miners on the Bitcoin network.
Blocks believed to have been mined by Satoshi have a particular pattern in their nonces, a cryptographic number that can help identify blocks. According to that pattern, these Bitcoin do not appear to have originated from Satoshi.
Another analyst noted that the transaction marks the first time that early 2009-origin Bitcoin has moved since August of 2017.
Nevertheless, on-chain sleuths will closely watch the path of the coins as the transaction was undoubtedly from an early Bitcoin miner and large holder. If these 50 BTC continue to move, then a lot more about this story will be revealed.
Challenges Await Banks Looking to Expand Into Crypto
In a recent weeks, a widening range of Wall Street titans from Goldman Sachs to the New York Stock Exchange have signaled they are interested in expanding their footprints in the booming cryptocurrency universe in various forms.
While many market observers believe the entry of established Wall Street banks and exchange operators is a positive for the alt-coin space, some analysts believe there are hurdles facing banks looking to expand their presence in the crypto space.
"Centrally cleared cryptocurrency derivatives could be a real-world test of clearinghouses' margining and default procedures, particularly if derivative notional volumes increase and cryptocurrencies exhibit heightened price volatility," said Fitch Ratings in a recent note.
Crytpo-related derivatives currently available in the U.S. are mostly confined to Bitcoin futures, which debuted in December on the Cboe and CME. Nasdaq is also considering launching bitcoin futures at some point.
Other Challenges
Some big names on Wall Street are embracing digital assets. For example, Goldman Sachs recently made its first cryptocurrency hire and said it plans to use its own capital to trade bitcoin futures for clients. However, Fitch sees challenges for banks looking to venture into digital currency derivatives.
"A dramatic increase in financial institutions' exposure to cryptocurrency derivatives could challenge clearinghouses and large financial institution clearing members in ways beyond those typically associated with the introduction of new market products," said the ratings agency. "Cryptocurrencies are prone to extreme price volatility, which has been exacerbated by a nascent, unregulated underlying market with a limited price history and without generally accepted fundamental valuation principles. These factors complicate margin calculations, particularly related to short positions, for which losses cannot be capped."
Bitcoin futures, which are cash settled, still have light volume relative to other well-known contracts in the futures market.
"As of May 9, 2018, open interests in XBT and BTC were modest at 6,287 and 2,479 contracts, respectively, worth approximately $59 million and $116 million, respectively. However, if challenges associated with trading the cryptocurrency are addressed, including uncertainty over regulatory, tax and legal frameworks, cryptocurrency derivative volumes could grow," according to Fitch.