Fidelity International Introduces Virtual Campus for Financial Education in the Metaverse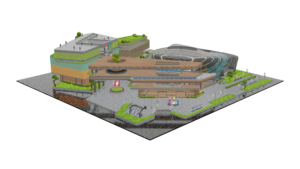 The metaverse is quickly becoming the new frontier for innovative digital experiences, and Fidelity International is jumping on board with the launch of their Fidelity International Campus in Decentraland. This one-of-a-kind metaverse experience is designed to promote financial literacy and teach users about financial planning, money management, and investing in a fun and engaging way.
Fidelity International Campus stands out as one of the first metaverse initiatives by a global asset manager, offering users an immersive digital space to learn about investing and financial planning. Through interactive games, galleries, and experiences like The Game of Life, Social Mobility Gallery, and the Discover Fidelity building, users can dive into the world of finance in a whole new way.
As visitors explore this virtual realm, they'll have the chance to collect digital assets such as non-fungible tokens (NFTs) and exclusive Decentraland wearables. These add an extra layer of excitement to the learning experience. The Game of Life, for instance, enables users to simulate real-life financial situations and experiment with making wise financial choices.
The Social Mobility Gallery showcases Fidelity's commitment to building better financial futures by promoting social mobility, and even offers users the chance to mint NFTs along the way. These limited-edition NFTs were created through a collaboration with students from School 21 in Stratford, London. The Fidelity International Campus is a prime example of how the metaverse can provide engaging and educational experiences for users worldwide.
Learn more and visit the Fidelity International Campus here!