Interest Increases in Newest Blockchain ETF
In the U.S., the world's largest exchange traded funds (ETFs) market, there are four ETFs offering investors exposure to blockchain technology. All four of those funds debuted earlier this year. The newest of the four is the Innovation Shares NextGen Protocol ETF (NYSEARCA:KOIN), which debuted in February.
Data suggest investors are warming up to KOIN. The fund is the first ETF "to use artificial intelligence to identify and invest in blockchain innovators and adopters," the issuer said. The ETF debuted at the end of January.
As of April 12th, KOIN had over $12.6 million in assets under management, according to issuer data. That is not a particularly large sum in the world of ETFs, but it shows KOIN is off to a decent start. More importantly, investors have recently been taking note of the ETF. Of its $12.6 million in assets under management, $7.05 million has flowed into KOIN since the start of April.
KOIN's Issuer Defines Blockchain
"Blockchain is a new digital protocol for authentication and authorization that allows parties to bypass a centralized administrator," according to Innovation Shares, KOIN's issuer. "To give this basket a more defined framework, stocks are placed in one of four custom stakeholder categories in terms of how they relate to the theme: Cryptocurrency as Payment, Mining Enablers, Solutions Providers and Adopters."
KOIN holds 42 stocks, including well-known companies such as Visa, Inc. (NYSE:V), Amazon.com Inc. (NASDAQ:AMZN), Oracle Corp. (NYSE: ORCL), NVIDIA Corp. (NASDAQ:NVDA), and American Express Co. (NYSE: AXP). Semiconductor maker NVIDIA is one of the largest producers of the graphics cards essential in the mining of digital currencies.
KOIN "seeks to give investors access to companies that may benefit from a technology that has the potential to revolutionize the way global trade is conducted, data is secured, supply chains are managed, financial instruments are cleared and contracts are recorded," according to the issuer.
Components in KOIN must have minimum market values of $100 million. The ETF charges 0.65% per year, the equivalent of $65 on a $10,000 investment.
33 CryptoCurrencies In 4 Words Or Less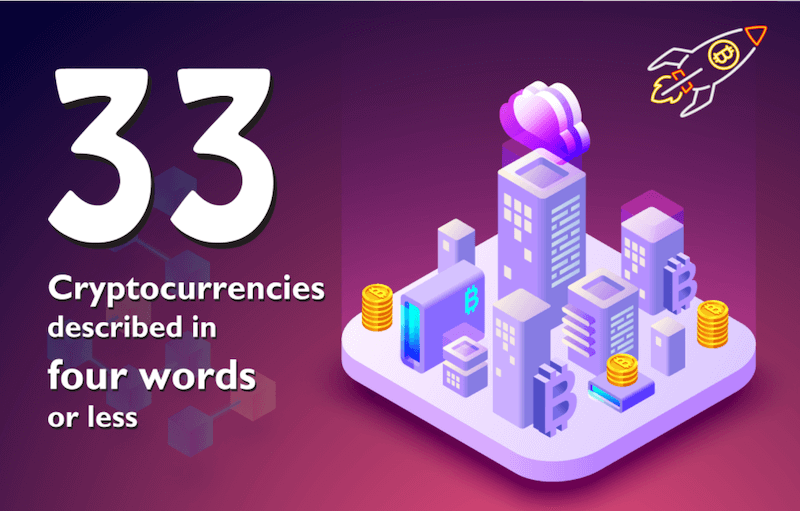 We put together this list to describe the top cryptocurrencies that are worth your time in 2019.
Each gets four words. There are many!
Hopefully this provides orientation.
Scroll Down To View An Awesome Infographic from MrBtc.org!
Name            | Sym.  | Description                              
----------------|-------|------------------------------------------
Bitcoin         | BTC   | Digital gold                             
Ethereum        | ETH   | Programmable contracts and money         
Bitcoin Cash    | BCH   | Bitcoin clone                            
Ripple          | XRP   | Enterprise payment settlement network    
Litecoin        | LTC   | Faster Bitcoin                           
Dash            | DASH  | Privacy-focused Bitcoin clone            
NEO             | NEO   | Chinese-market Ethereum                  
NEM             | XEM   | Batteries-included digital assets        
Monero          | XMR   | Private digital cash                     
Ethereum Classic| ETC   | Ethereum clone                           
IOTA            | MIOTA | Internet-of-things payments              
Qtum            | QTUM  | Ethereum contracts on Bitcoin            
OmiseGO         | OMG   | Banking, remittance, and exchange        
Zcash           | ZEC   | Private digital cash                     
Lisk            | LSK   | Decentralized applications in JavaScript 
Cardano         | ADA   | Layered currency and contracts           
Tether          | USDT  | Price = 1 USD                            
Stellar Lumens  | XLM   | Digital IOUs                             
EOS             | EOS   | Decentralized applications on WebAssembly
Stratis         | STRAT | Decentralized applications in C#         
Electroneum     | ETN   | Monero clone                             
Bytecoin        | BCN   | Privacy-focused cryptocurrency           
Ardor           | ARDR  | Blockchain for spawning blockchains      
Binance Coin    | BNB   | Pay Binance exchange fees                
Augur           | REP   | Decentralized prediction market          
Decred          | DCR   | Bitcoin with alternative governance      
TenX            | PAY   | Cryptocurrency credit card               
BitShares       | BTS   | Decentralized exchange                   
Golem           | GNT   | Rent other people's computers            
PIVX            | PIVX  | Inflationary Dash clone                  
TRON            | TRX   | In-app-purchases                         
Vertcoin        | VTC   | Bitcoin clone                            
MonaCoin        | MONA  | Japanese Dogecoin



Ripple Hunting For Unicorns With $25M Blockchain Investment
Ripple, also known by the symbol "XRP," is putting its money where its mouth when it comes to investing in blockchain technology startups. Ripple is putting $25 million worth of XRP into a blockchain venture fund, a move that could increase adoption and use of XRP.
Ripple is investing in San Francisco-based Blockchain Capital. That company, founded in 2013, "is one of the oldest and most active venture investors in the blockchain technology sector, and has financed 72 companies, protocols and tokens since its inception. We are multi-stage investors and invest in both equity and crypto assets," according to its website.
The $25 million contribution to Blockchain Capital was made in XRP, not dollars. Last month, Blockchain Capital announced the closing of Blockchain Capital IV, LP a $150 million fund. The company "has invested in 72 companies, protocols, and tokens, including Coinbase, Ripple, Circle, Ethereum, 0x and Kraken," it said.
This is the first venture fund Ripple has contributed to and it is likely it will continue seeking related investments.
"We want smart people and smart entrepreneurs, who can solve a problem using Ripple," Cory Johnson, chief market strategist at Ripple, told CNBC in an interview Wednesday. "There's money sitting there to be used."
More About Ripple
As of this writing Wednesday, XRP was the third-largest digital currency by market value behind bitcoin and ethereum. XRP traded at an all-time high of $3.84 in January but labored around 50 cents at this writing. Its market capitalization is $19.62 billion. The supply of XRP is capped at 100 billion, of which Ripple controls 60 billion.
Ripple uses a blockchain technology known as the "Enterprise Blockchain" ledger. XRP is used by some banks and other financial institutions, such as American Express and Western Union, and allows users to send, receive and hold any currency on a secure, decentralized network.
Ripple technology is more secure than those of rivals, including bitcoin and XRP transactions settle rapidly, in as little as four seconds.
Billionaire Investor Soros Eyes Crypto Trading
In January, billionaire investor George Soros ripped cryptocurrencies, saying the asset class is too volatile to replace traditional currencies. Now, Soros is eyeing trading cryptos, according to various media reports.
Soros Fund Management, the billionaire's family office operation, which has $26 billion in assets, is looking to trade digital currencies.
"Adam Fisher, who oversees macro investing at New York-based Soros Fund Management, got internal approval to trade virtual coins in the last few months, though he has yet to make a wager, according to people familiar with the matter," reports Bloomberg.
At the World Economic Forum in Switzerland earlier this year, Soros bashed bitcoin and other digital currencies. The price of bitcoin, the largest digital currency, is off more than 40% since Soros made those remarks and has lost about half its value just this year. Bitcoin traded just under $7,000 at this writing Sunday, meaning it has lost nearly two-thirds of its value since its December peak.
Others Following Suit
Soros is not the only famed financial name to recently get involved in cyrpotcurrencies. Last week, it was reported that Venrock, the venture capital arm of the famous Rockefeller family, said it is partnering with New York-based CoinFund "to help entrepreneurs build businesses based on blockchains, the hot distributed ledger technology that first came to prominence with the development of Bitcoin a decade ago," according to Fortune.
Some industry observers believe the addition of more big-name institutional investors to the crypto market will help the market mature, potentially enhancing liquidity in the process. Recent data suggest many professional investors remain leery of digital currencies with the bulk of that group not planning to make crypto investments this year.
While not necessarily a famed investor on par with the Rockefellers or Soros, the Crown Prince of Liechtenstein recently said his family could look to diversify its investment portfolio to include cryptocurrencies.
In a recent interview with CNBC, Crown Prince Alois acknowledged that digital currencies are "risky" while highlighting the potential of blockchain, saying "Blockchain will change a lot of things, it could even help make our state more efficient the way it is administered."