Poloniex acquired by Goldman Backed firm Circle
Popular U.S. based cryptocurrency exchange Poloniex has been acquired by the financial firm Circle. In a piece about the acquisition, Fortune deems it, "a move that immediately makes Circle one of the largest and most influential companies in the industry." Poloniex is one of the largest and longest standing cryptocurrency exchanges in the marketplace today. Circle reportedly paid $400 million for the acquisition.
On their official blog post welcoming Poloniex, Circle Said:
"It was one of the first exchanges in the world to offer meaningful liquidity in ethereum, it was the first exchange to reach $1 billion in daily volume, and it has continued to boost innovation by hosting a broad variety of carefully selected tokens. Customers have traded crypto assets equating to billions of dollars through the Poloniex platform."
The acquisition appears to be a no-brainer for the Goldman Sachs backed company, as they embark on a new frontier they call Circle Invest. The new app focuses on ease of use investment for those buying cryptocurrency and hopes to rival that of Coinbase.
Most notably Circle is known for their peer-to-peer payment service Circle Pay and their crypto trading desk Circle Trade. Circle Trade alone is one of the largest liquidity solutions in digital assets, managing around $2 billion a month in crypto.
In addition to Circle Pay, Circle Trade, Poloniex, and the new Circle Invest app the company told Fortune, they are working on a project called "Centre" which is a protocol designed to bring interoperability to digital wallets like Alipay, Paypal, and Circle.
As for the Poloniex transition, the company promises customers that it should be a seamless, smooth, and pain-free process.
As always we here at Cryptobase will keep you up to date as this story unfolds.
Will A War With Iran Send Bitcoin (BTC) To The Moon?
It behooves a speculator to speculate, and nothing gets the attention of the speculator more than the classic market catalyst of "war in the Middle East." So last night's U.S. strike, killing Iranian General Soleimani, is the sort of event that gets markets moving.
As one might expect, oil jumped and so did gold. Oil is up 3% and gold jumped 2%.
In this new world there is a third safe haven asset, bitcoin (BTC). It is up 5%.
Here is a chart of that action: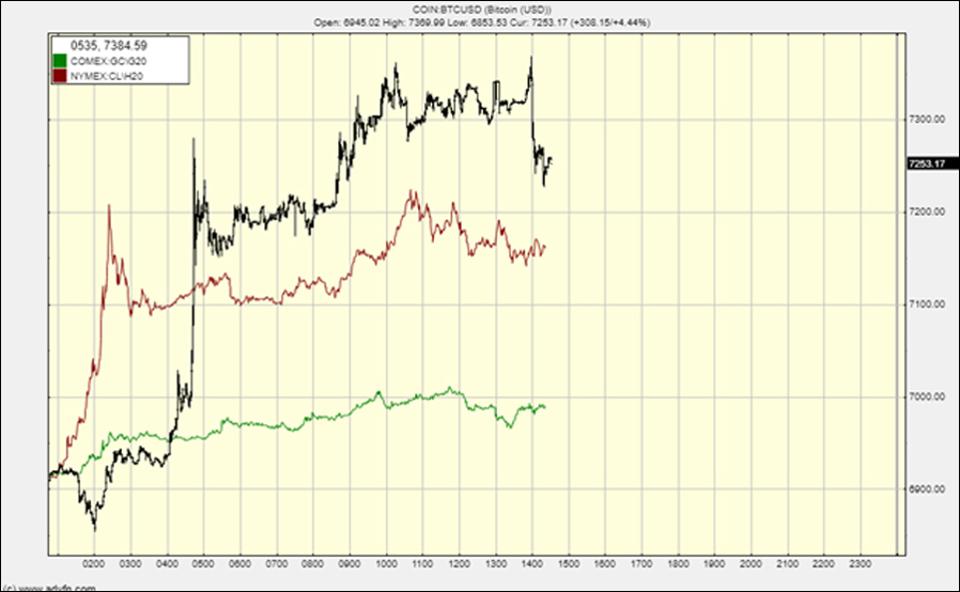 This is a very interesting chart because it shows the global professionals reacting to the news much faster than the private traders and it might be suggested this hike is the result of Middle Eastern retail piling into BTC as a flight to safety rather than the relatively non-existent institutional money.
In any event, bitcoin has the most beta in this situation and what's more there appears to be plenty of time to get your trade on in response to the news.
This, of course, is a gift to all skilled traders, a three-hour warning to buy.
Longer term, however, it is clear to see that in instances where there is trouble in capital controlled countries like Iran and China, bitcoin will be a key asset when times get sketchy.
As such, for those speculators who think of gold and oil as the place to trade when war in the Middle East is on the rise, then bitcoin is the place to be.
For those wanting to trade what might be a U.S./Iran escalation, bitcoin is the place to do your thing because while there are trillions in gold and oil to suck up demand, there is only a smattering of bitcoin to take the sort of buying surge a country like Iran could create were the situation to spin up into a large scale conflict.
Bitcoin is the best place for flight capital and haven capital for those in Iran wishing to protect their assets, and that alone is enough to drive Bitcoin back towards its previous and all-time highs. Then there is the exaggerated Beta of Bitcoin that will draw in the global speculators and their wall of money, so that in an extended and fraught US/Iran conflict only one thing is certain about the price of Bitcoin and that is, it will be far higher than it is now.
Bitcoin and Cryptocurrencies Aren't Money Says Donald Trump 🙄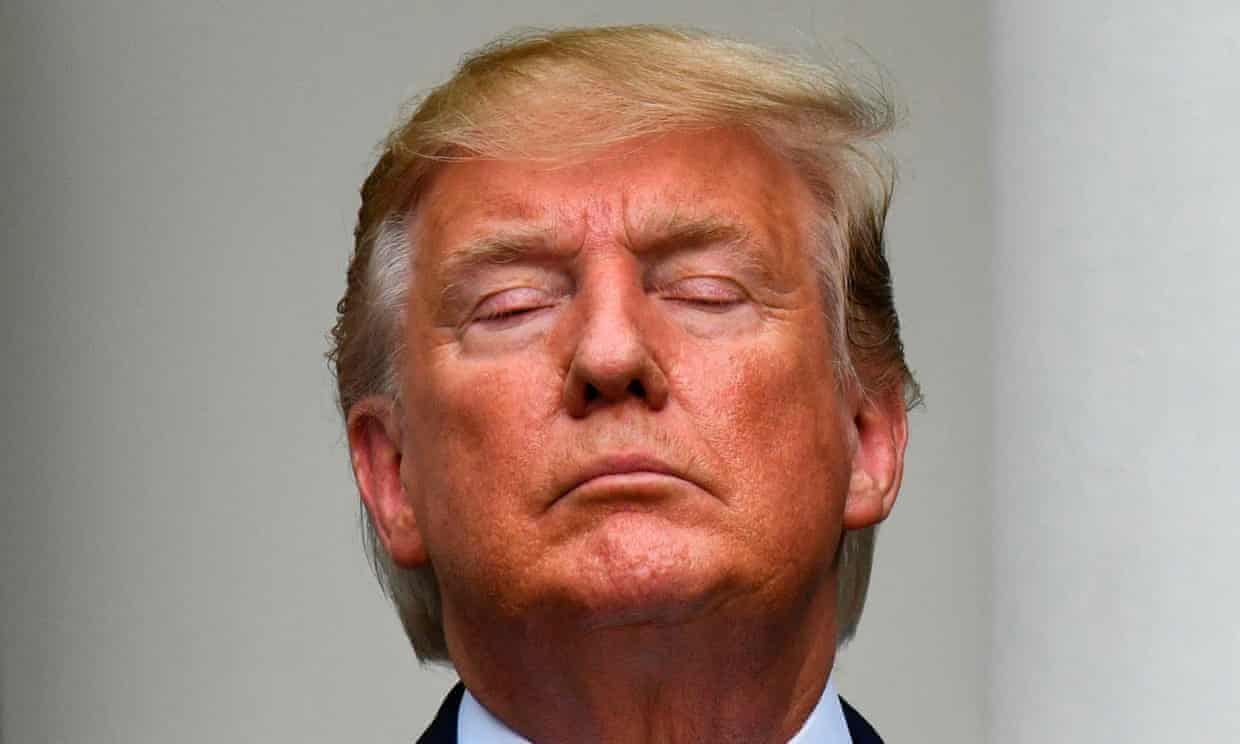 Donald Trump recently criticized Bitcoin, Facebook's proposed Libra digital coin and other cryptocurrencies and made the demand that companies seek a banking charter and make themselves subject to US and global regulations if they really wanted to "become a bank".
"I am not a fan of Bitcoin and other Cryptocurrencies, which are not money, and whose value is highly volatile and based on thin air," Trump wrote on Twitter.
"If Facebook and other companies want to become a bank, they must seek a new Banking Charter and become subject to all Banking Regulations, just like other Banks, both National and International," he added.
Facebook announced last month it would launch its global cryptocurrency in 2020. Facebook and 28 partners, including Mastercard Inc, PayPal Holdings Inc and Uber Technologies Inc, would form the Libra Association to govern the new coin. No banks are currently part of the group.
JPMorgan Chase & Co, the largest US bank by assets, plans to launch its own digital coins.
Bitcoin Breaks $13,000 Today! Breakout Continues!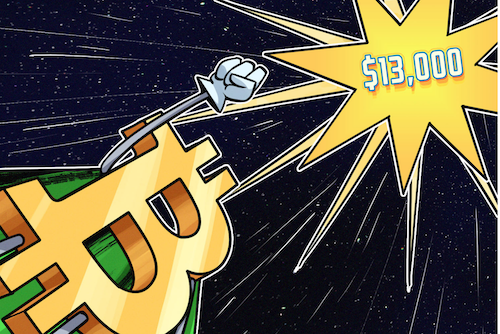 Wednesday, June 26 — Bitcoin (BTC) has broken the $13,000 price mark, and many of the top-20 cryptocurrencies showing double-digit gains on the day, according to Coin360.
BTC broke the $12,000 level earlier today, and has continued surging to trade at $13,252 at press time. The leading coin has gained over 16% on the day. Today, Bitcoin's market dominance climbed to over 60% for the first time since April 2017.
Bitcoin's recent rally has caused a stir in the crypto community, wherein some of its players have made predictions on its further price dynamics. Today, eToro analyst Simon Peters claimed that BTC prices could match their all-time high of $20,000 within the next two weeks — and could hit $50,000 or $100,000 by the end of the year.