SEC Unveils Spoof Site to Warn About ICO Risks
It is not often any branch of the federal government can be accused of having a sense of humor, but give the Securities and Exchange (SEC) for trying.
The SEC is using its attempts at humor for good by unveiling a new website aimed at warning investors about the risks associated with Initial Coin Offerings (ICOs).
"The SEC set up a website, HoweyCoins.com, that mimics a bogus coin offering to educate investors about what to look for before they invest in a scam," said the SEC in a statement out Wednesday. "Anyone who clicks on "Buy Coins Now" will be led instead to investor education tools and tips from the SEC and other financial regulators."
Inside HoweyCoins.com
HoweyCoins employs satire as a way of informing investors about some of the tricks unscrupulous ICO purveyors use.
"We anticipate OVER 1% daily returns, with DOUBLE 2% returns on Tier 1 investors in pre-ICO stage secured purchases," according to one section of the HoweyCoins site. "The average registered coin return over a two month period in 2017 was an amazing 72%. Based on market conditions, including record-setting prospects in both the digital asset and travel industries, we expect surpassing that BEFORE the Tier 2 offering closes."
The fictitious HoweyCoin can be redeemed for luxury travel and there are even pictures and names of fictitious staff members on the site. HoweyCoins.com even features a complex white paper, another hallmark of ICO sites.
"The website's name, HoweyCoins, is a bit of an Easter egg—a tongue-in-cheek reference to the Howey test that's used to determine whether a transaction is an investment contract," said the SEC.
Year-to-date, there have been just over 300 ICOs globally, raising a combined $7.34 billion. To this point in May, ICOs have raised just over $760 million. The Telegram ICO accounts for $1.7 billion of capital raised by ICOs this year.
"The rapid growth of the 'ICO' market, and its widespread promotion as a new investment opportunity, has provided fertile ground for bad actors to take advantage of our Main Street investors,"said SEC Chairman Jay Clayton.
Have you prepared for the Tron TRX Mainnet Launch?
What you need to know to prepare for the Tron public blockchain migration
Tron (TRX) is currently in the process of moving from the Ethereum Blockchain to their very own independent Blockchain, which is a very big step in the progression of their platform. As of May 31, 2018 the Tron Foundation officially launched the "Mainnet" migration from ERC-20 to the TRX-20 Token but will reach a significant milestone on June 25th when the Tron network will be functioning on its own and will no longer rely on the Ethereum Blockchain to support its transactions and smart contracts.
It is important to note that all Tron coin transactions will be frozen from June 22nd to June 24th and the main net will officially become independent on June 25th, 2018.
Is your Tron safe?
In short, Yes. If your Tron is sitting in a reputable exchange like Binance, Bitfinex or Bittrex for example (See the list below for all currently supported exchanges) then your your Tron will automatically be updated from the old ERC-20 token to the new TRX-20 standard token.
If you are unable to withdraw your TRX from the www.tron.network site, you can contact TRON token holder support to submit a request for withdrawal. This support system will be available until December 31, 2018.
What does all of this mean for you?
If you have your Tron sitting on an exchange that does not support the TRX Mainnet then you will need to transfer your token into a exchange that does support the migration in order to swap from ERC20 to official TRX20. (List of exchanges below)
If you have your Tron sitting on a secure wallet or online wallet then you will need to transfer it back into one of many specific exchanges in order to have your Tron converted from ERC-20 to TRX-20. (List of exchanges below)
NOTE: the coin swap will be a 1:1 ratio so you will still have the exact same amount of Tron that you did before.
Exchanges that currently support the new Tron TRX-20 Token
Bitbns, Bit-Z, Bibox, Binance, LBank, Bitfinex, BitoPro, BitForex, Bitthumb, Bitkop, Bittrex, Bixin, Bitpie, Coinegg, Liqui, Coinnest, Coinrain, Cointiger, Dragronex, gate.io, Huobi, Lbank.io, Liqui, OEX, Okex, OTCBTC, RightBTC, Upbit, Zebpay, WazirX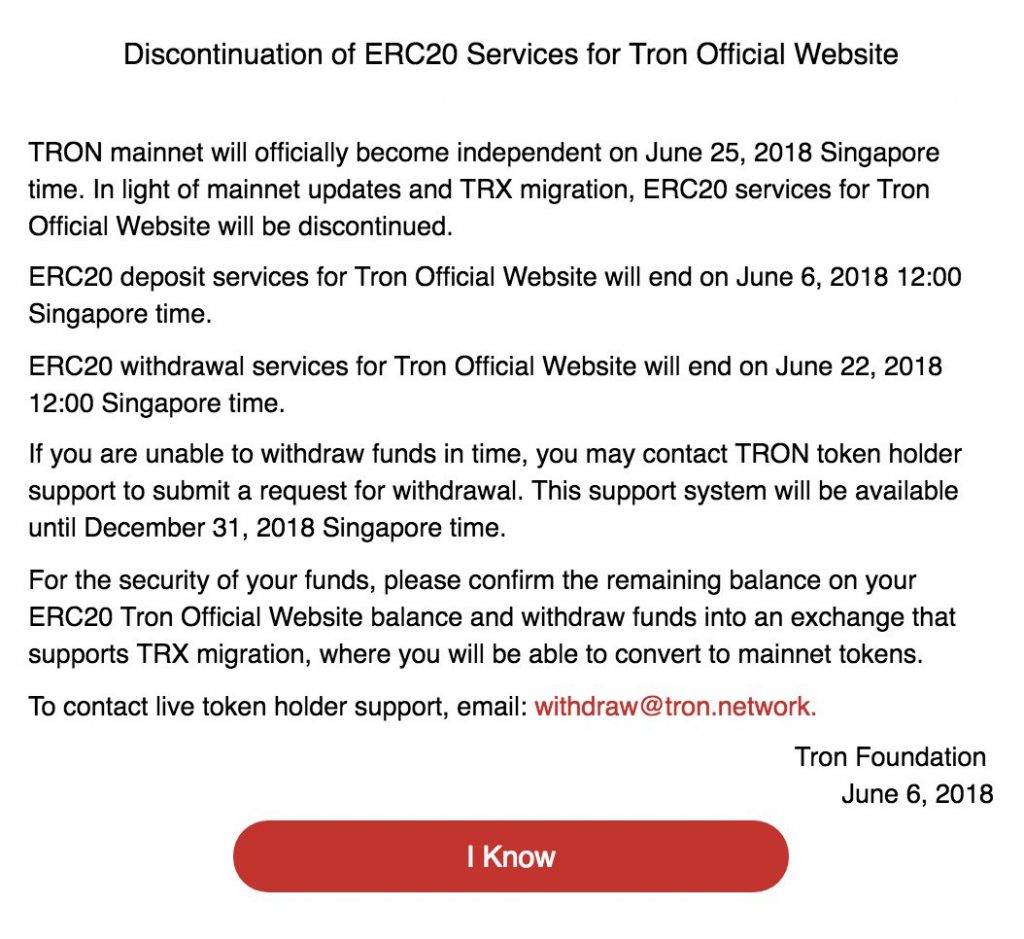 Help For Crypto Addicts…in Scotland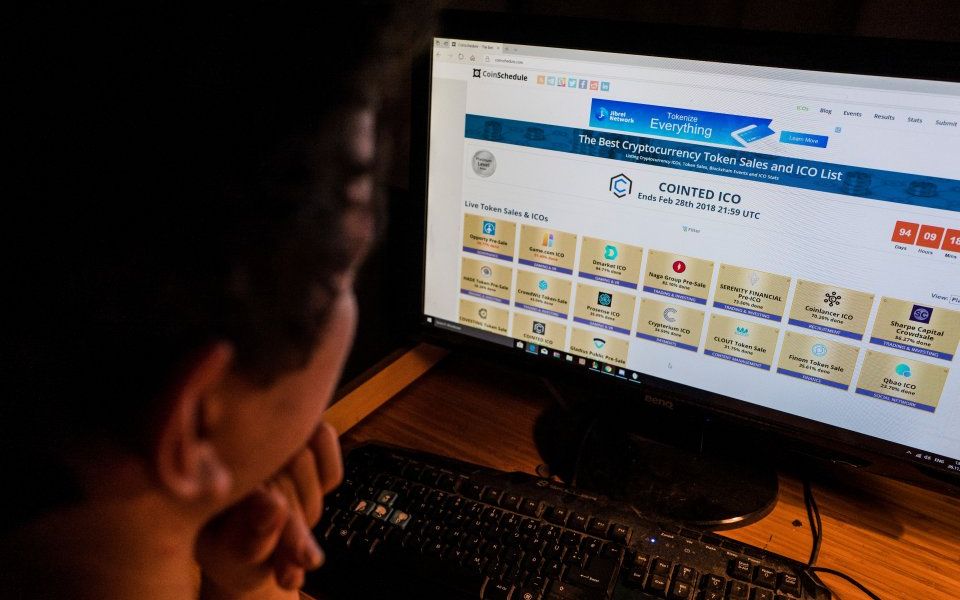 Cryptocurrency is still a relatively new asset class, but it is still possible that some traders are becoming addicted to trading bitcoin and other digital currencies.
For those that believe they are truly addicted to trading crypto, help is on the way in the form a treatment center in Scotland. The Castle Craig Hospital in Peeblesshire, Scotland "already runs treatment programmes for drug and alcohol addiction and hopes to treat people addicted to trading cryptocurrencies with techniques developed for gambling addicts," reports Sky News.
Addiction to trading crypto, or any asset class for that matter, is more comparable to gambling addiction rather than addictions to alcohol or drugs. Some experts believe addictions to trading trigger similar behavior as gambling addictions.
"In the 1980s, while updating the Diagnostic and Statistical Manual of Mental Disorders (DSM), the American Psychiatric Association (APA) officially classified pathological gambling as an impulse-control disorder—a fuzzy label for a group of somewhat related illnesses that, at the time, included kleptomania, pyromania and trichotillomania (hairpulling)," according to Scientific American.
In other words, it took significantly longer for gambling to be recognized as an addiction than it did for the medical community to apply similar views to alcohol and narcotics.
More On The Treatment
While there are millions of crypto market participants that label themselves "traders," it remains to be seen how many actually believe they are addicted and need treatment.
"The high risk, fluctuating cryptocurrency market appeals to the problem gambler," said Chris Burn, a gambling therapist at Castle Craig Hospital, in an interview with Sky News. ""It provides excitement and an escape from reality. Bitcoin, for example, has been heavily traded and huge gains and losses were made. It's a classic bubble situation."
By some estimates, 10% of U.S. traders are addicted, but that statistic does not breakout what particular asset classes the addicted traders are keen on.
"Some of the symptoms that cryptocurrency users should look out for (suggesting an addiction) are: feeling muscle tension and anxiety, constantly checking the prices online (even in the middle of the night) and thinking about cryptocurrency trading when doing other things," according to Castle Craig Hospital.
Over $1 Billion in Crypto Stolen Since 2017
It is a lesson seasoned crypto investors have already learned and one novice investors must immediately learn: secure storage is a must when it comes to protecting digital currencies. Data confirm cyber thefts of digital currencies have reached epic proportions, underscoring the point that investors and users of cryptocurrencies must be ultra-careful when it comes to guarding digital assets.
"Criminals have stolen about $1.2 billion in cryptocurrencies since the beginning of 2017, as bitcoin's popularity and the emergence of more than 1,500 digital tokens have put the spotlight on the unregulated sector," reports Reuters, citing the Anti-Phishing Working Group (APWG).
Earlier this year, Coincheck, a Japan-based crypto exchange, suffered a $530 million hack, one of the largest thefts of bitcoin on record.
"The APWG Crypto Currency Working Group helps cryptocurrency exchanges, wallets, investment funds and consumers protect their cryptocurrency assets against phishing and targeted attacks," according to APWG. "The Cryptocurrency Anti-Phishing Working Group enables cryptocurrency exchanges to submit live phishing information to the APWG eCrime Exchange (eCX) and get that data distributed into web browsers, email clients and other security products in real-time, protecting over 100 million consumers."
Low Recovery Rates
Losing any via theft is never a positive experience, but there is always a chance authorities can help victims get something back. However, in the world of digital currencies, recovery rates are low. Of the $1.2 billion in crypto stolen since the start of 2017, just 20% has been recovered, according to Reuters.
The European Union's new General Data Protection Regulation, which goes into effect Friday, could make it even harder to help victims of cyber cryptocurrency theft.
"The implementation of GDPR means that most European domain data in WHOIS, the internet's database of record, will no longer be published publicly after May 25. WHOIS contains the names, addresses and email addresses of those who register domain names for websites," reports Reuters.
Some market observers blockchain technology can help differentiate between legitimate and nefarious bitcoin transactions.