Canadian Crypto Exchange Adds More Coins ??
CoinField, a Canadian cryptocurrency exchange operator, said Thursday it is expanding its platform in significant fashion. The company said updates to its platform will allow for 10 new coins to be available to digital currency traders in Canada. The list of the new coins will be finalized in May.
"We are fully aware which coins are the most desirable by Canadian crypto community and our team work around the clock to bring these new coins in Canada for the first time however in order to stay compliant with the regulations, before we list any additions to our expansive portfolio, we have to analyze and evaluate the coins to make sure the ones we are listing are 'commodities' as we do not list any 'securities' on our platform," said CoinField CEO Babak Bob Ras in a statement.
Currently, CoinField offers trading in bitcoin against the Canadian and U.S. dollars as well as trading of Ripple, or XRP, against the Canadian and U.S. dollars. Clients can also trade Ethereum, Litecoin, Bitcoin Cash, and Dash against the loonie.
Regulatory Environment
CoinField's expansion comes amid a challenging regulatory environment for Canadian cryptocurrency market participants.
"The Bank of Montreal (BMO), one of the largest Canadian banks, recently said it is banning customers from purchasing digital currencies with its MasterCard credit and debit cards. BMO rival TD Bank made a similar announcement last month," The Cryptobase recently reported.
Coupled with those announcements, the Royal Bank of Canada (RBC) said it is limiting crypto transactions. The Bank of Canada (BoC), the central bank there, is reviewing its policies on digital currencies. For its part, CoinField said it employs strict practices to prevent money laundering via digital currencies over its platform.
"Any and all attempts to hurt our traders and tarnish the perception of the revolutionary blockchain technology will be met with the full force of our cutting-edge security infrastructure," according to the statement.

33 CryptoCurrencies In 4 Words Or Less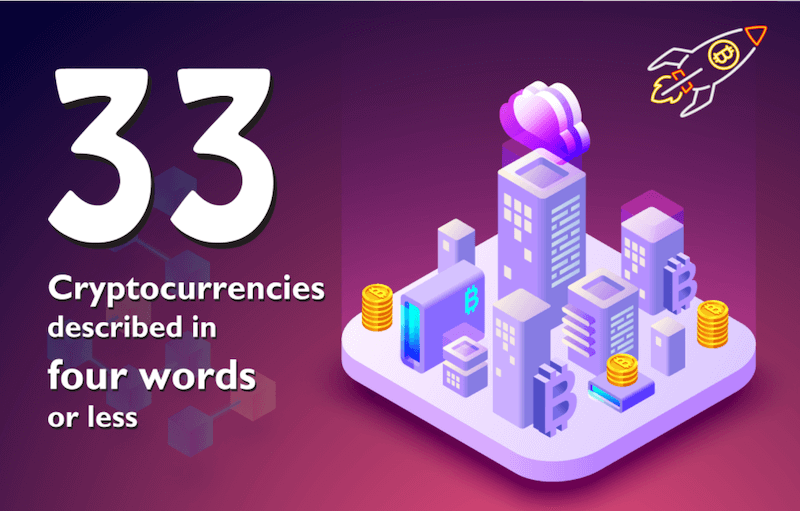 We put together this list to describe the top cryptocurrencies that are worth your time in 2019.
Each gets four words. There are many!
Hopefully this provides orientation.
Scroll Down To View An Awesome Infographic from MrBtc.org!
Name            | Sym.  | Description                              
----------------|-------|------------------------------------------
Bitcoin         | BTC   | Digital gold                             
Ethereum        | ETH   | Programmable contracts and money         
Bitcoin Cash    | BCH   | Bitcoin clone                            
Ripple          | XRP   | Enterprise payment settlement network    
Litecoin        | LTC   | Faster Bitcoin                           
Dash            | DASH  | Privacy-focused Bitcoin clone            
NEO             | NEO   | Chinese-market Ethereum                  
NEM             | XEM   | Batteries-included digital assets        
Monero          | XMR   | Private digital cash                     
Ethereum Classic| ETC   | Ethereum clone                           
IOTA            | MIOTA | Internet-of-things payments              
Qtum            | QTUM  | Ethereum contracts on Bitcoin            
OmiseGO         | OMG   | Banking, remittance, and exchange        
Zcash           | ZEC   | Private digital cash                     
Lisk            | LSK   | Decentralized applications in JavaScript 
Cardano         | ADA   | Layered currency and contracts           
Tether          | USDT  | Price = 1 USD                            
Stellar Lumens  | XLM   | Digital IOUs                             
EOS             | EOS   | Decentralized applications on WebAssembly
Stratis         | STRAT | Decentralized applications in C#         
Electroneum     | ETN   | Monero clone                             
Bytecoin        | BCN   | Privacy-focused cryptocurrency           
Ardor           | ARDR  | Blockchain for spawning blockchains      
Binance Coin    | BNB   | Pay Binance exchange fees                
Augur           | REP   | Decentralized prediction market          
Decred          | DCR   | Bitcoin with alternative governance      
TenX            | PAY   | Cryptocurrency credit card               
BitShares       | BTS   | Decentralized exchange                   
Golem           | GNT   | Rent other people's computers            
PIVX            | PIVX  | Inflationary Dash clone                  
TRON            | TRX   | In-app-purchases                         
Vertcoin        | VTC   | Bitcoin clone                            
MonaCoin        | MONA  | Japanese Dogecoin



A Bullish Call on Bitcoin Cash
Bitcoin cash often goes overlooked relative to bitcoin, but at least one cryptocurrency market expert believes the former is the place to be among digital currencies.
Brian Kelly, who is founder and CEO of BKCM, an investment firm focused on digital currencies, "said Monday bitcoin cash is the must-own digital currency of the moment," reports CNBC. "On Saturday, bitcoin cash miners met to discuss funding for a bitcoin cash development fund, he told CNBC."
As of this writing Tuesday, Bitcoin cash has a market capitalization of $19.86 billion, making it the fourth-largest digital currency behind bitcoin, ethereum and ripple.
"Bitcoin Cash brings sound money to the world, fulfilling the original promise of Bitcoin as 'Peer-to-Peer Electronic Cash.' Merchants and users are empowered with low fees and reliable confirmations. The future shines brightly with unrestricted growth, global adoption, permissionless innovation, and decentralized development," according to BitcoinCash.org.
More About The Trade
"In the fund, miners are "going to take some of the rewards they get from mining and put it in a fund to build stuff on top of bitcoin cash," Kelly said in an interview with CNBC.
Kelly is a note cryptocurrency market expert and he recently introduced an actively managed exchange traded fund (ETF) dedicated to companies with exposure to blockchain technologies. The REX BKCM ETF (NYSEArca: BKC), which is a partnership between Rex Shares and BKCM Funds, debuted last week.
"Bitcoin probably won't be the only winner. There could be plenty of winners as this new world unfolds—among cryptocurrencies, hardware makers, and businesses that learn to capitalize on the blockchain," said Kelly in a recent blog post.
Kelly manages a long/short hedge fund focusing on Bitcoin, Ethereum, Stellar, Monero, Litecoin, and other digital currencies.
@Bitcoin Twitter Account Returns With Venom For Dorsey
A popular cryptocurrency Twitter account known as @Bitcoin, which is known for its support of Bitcoin Cash, is back after being suspended by the social media company.
In a tweet posted late Monday, @Bitcoin said it was discovered 36 hours earlier that the account had been suspended and that a new account with the same handle emerged, "posting nonsense." @Bitcoin went on to say that "community & media outraged ensued" and that the account was later restored with 750,000 fewer followers than it had prior to the suspension.
I'm back, @jack pic.twitter.com/i4J2NBOuOy

— Bitcoin (@Bitcoin) April 9, 2018
@Bitcoin also threw some jabs at Twitter CEO Jack Dorsey, demanding an explanation for why the account was suspended while pointing out that Dorsey is an investor in the Lightning Network, a competitor to bitcoin.
Dorsey, also the chief executive officer of mobile payments processor Square Inc. (NYSE:SQ), has previously endorsed bitcoin, saying it could become the world's dominant currency in 10 years. Still, @Bitcoin had some harsh words for Twitter.
This recent run-in with censorship proves that companies like Reddit and Twitter are the new dinosaurs bitcoin will make irrelevant

The ability to speak and transact freely with anyone, without fear of reprisal, is why I got into Bitcoin in the first place.

— Bitcoin (@Bitcoin) April 10, 2018
The Bitcoin Cash Debate
Giving @Bitcoin the benefit of the doubt, and signs point to the account's owner being spot on, the source of this social media flap stems from the account owner's support of Bitcoin Cash, which was split from bitcoin last year.
"Some Bitcoin Cash supporters suggest the new coin, which holds a greater number of transactions per block in its blockchain, is the real Bitcoin," reports Bloomberg.
Bitcoin Cash supporters argue that bitcoin was originally created to be an efficient, inexpensive global payments network accessible to all users and that the recent move by some bitcoin endorsers to position the largest digital currency as a store of value on par with fiat money is akin to "selling out."
Bitcoin Cash is the fourth-largest cryptocurrency with a market value of about $11.13 billion, as of this writing, according to Coinmarketcap.com. By comparison, bitcoin's market capitalization is $116.19 billion.
The owner of the @Bitcoin Twitter account remains anonymous, but it is believe the person has been involved with bitcoin since 2009 and is well-known throughout the digital currency community.