Craig Wright's 1m BTC fortune to be unlocked in 9 days! Maybe…
Next week, Craig Wright is set to receive the keys for more than 1 million bitcoins, the crypto community is becoming impatient to see whether the self-proclaimed Satoshi Nakamoto will deliver on its promise. Worth more than $8 billion at press time, the unlocked Bitcoins could tank the entire crypto market.
The notorious Tulip Trust to be unlocked on Jan. 1, 2020
Craig Wright, the chief scientist at nChain and chief defender at BSV, has been at the forefront of crypto news from 2018. However, the self-proclaimed Satoshi Nakamoto could see his reign over crypto industry drama come to an end at the beginning of next year.
Wright has been embroiled in a dramatic legal battle with the estate of his former partner Dave Kleiman, with whom he allegedly mined more than 1 million bitcoins in the cryptocurrency's early days. Kleiman's estate has successfully sued Wright and won the rights to half of the fortune they mined, worth more than $8 billion today.
However, Wright claimed he was unable to access the funds, as they were held in the Tulip Trust, a Seychelles-based fund. But, despite having lost the keys to the funds, Wright claims Kleiman hired a bonded courier to return the keys to Wright on Jan. 1, 2020.
With just a week left before the end of the year, the crypto community is becoming impatient to see how Wright's story about the courier plays out. If the keys to the trust were to be delivered, Wright would become the owner of 1.1 million BTC, worth over $8 billion at press time.
Wright paved the way to shift the blame to Kleiman
And while the BSV community is already gearing up for a crypto revolution, the skeptic majority has been pointing out the gaping holes in Wright's story.
The only evidence backing Wright's claim that he is set to receive the keys is a 2011 email from Dave Kleiman. The email, produced during the Wright v Kleiman case, claims Kleiman became the sole trustee for 1.1 million bitcoins he received from Wright. The funds, worth $100,000 at the time, were to be put in a trust managed by "at least three people but not more than seven at any time," it said in the email.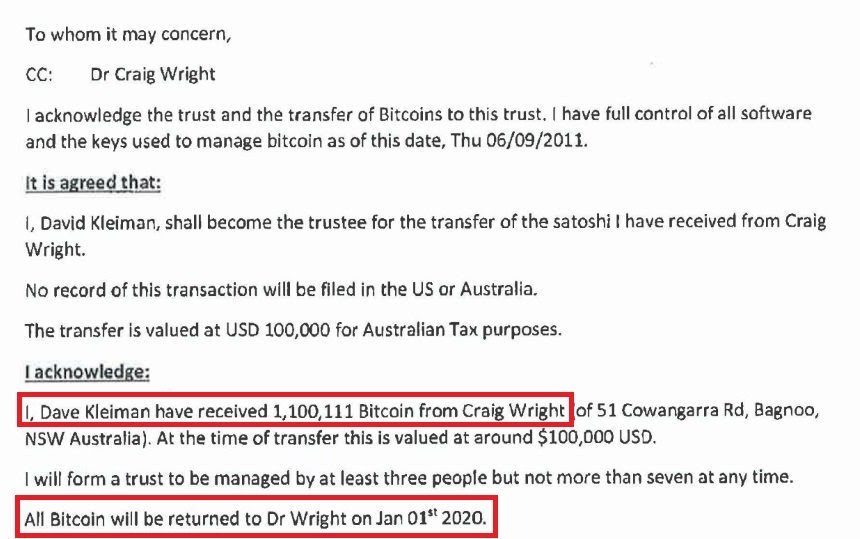 However, the originality of the email has been widely disputed. One of the main things that raised suspicion was the use of the word "satoshi" in the text. The term first popped up in 2013 during a community discussion on how to name the smallest amount of Bitcoin.
It also seems like Wright has been paving the way to shift the blame away from him when, not if, the bonded courier doesn't show up with the keys. In court testimony, Wright said he instructed Kleiman on how to hire a courier, but he never confirmed whether or not one was actually hired.
While the story about the courier came out long before Wright claimed he was Satoshi Nakamoto, the judge that presided over his case with Kleiman seemed to think it was also a big bag of nothing.
Judge Bruce Reinhart said back in August:
"During his testimony, Dr. Wright's demeanor did not impress me as someone who was telling the truth."
The chances for this to come true are slim to none, but Jan. 1, 2020 will nonetheless become an incredibly important day for the crypto industry. BSV could possibly take a hit, while the rest of the market might firm up a bit and regain its confidence knowing that 1 million Bitcoins won't be hitting exchanges any time soon.
Did Satoshi Nakamoto Just Move 50 Bitcoin?
Key Takeaways
50 Bitcoin that haven't moved since 2009 were transacted today.
Some Bitcoin watchers speculate that these coins belong to Satoshi Nakamoto.
The coins were from Bitcoin mining around a month after the network was created.
BTC from the earliest days of the network moved today. Could Bitcoin creator Satoshi Nakamoto be behind the transaction?
Was Satoshi Behind a Recent Bitcoin Transaction?
A 50 BTC transaction representing a block reward from a month after the Bitcoin network launched moved today.
The coins were awarded for mining block 3,654. Several pundits have naturally associated that early mining activity with pseudonymous Bitcoin inventor Satoshi Nakamoto.
Others Are Unconvinced
The Block's head of research, Larry Cermak, believes the transaction is unrelated to Satoshi Nakamoto, identifying that there were several early miners on the Bitcoin network.
Blocks believed to have been mined by Satoshi have a particular pattern in their nonces, a cryptographic number that can help identify blocks. According to that pattern, these Bitcoin do not appear to have originated from Satoshi.
Another analyst noted that the transaction marks the first time that early 2009-origin Bitcoin has moved since August of 2017.
Nevertheless, on-chain sleuths will closely watch the path of the coins as the transaction was undoubtedly from an early Bitcoin miner and large holder. If these 50 BTC continue to move, then a lot more about this story will be revealed.
Bitcoin price rockets 23% as investors look for a new safe haven. 'The crypto king is on fire.'
Cryptocurrencies have seen a remarkable resurgence as investors flock to relative safe havens amid a flurry of quantitative easing measures by global central banks.
Central banks including the European Central Bank, Federal Reserve, and the Bank of England have announced asset-purchase schemes in recent days. Bitcoin, a finite cryptocurrency with only 21 million units in existence, has seen a 23% one-day surge. Bitcoin is currently up 21% as of 10.10 a.m. in London (6.10 a.m. ET), per Coindesk.
The cryptocurrency had been down 30% year-to-date amid a sell-off fueled by market uncertainty about the outbreak of coronavirus. However, investors may be looking to digital currencies in the wake of easing measures elsewhere. Other cryptocurrencies like ethereum, XRP, and bitcoin cash all saw major reversals by more than 15% over the same period.
"When it comes to bitcoin, the crypto king is on fire, and we have seen a decent rally," said Naeem Aslam, chief market analyst at AvaTrade, in a morning note.
"Given the fact that the price has crossed the $6,000 mark — an important level of resistance — the upward momentum is likely to pick up the pace, and if the price crosses the 200-day moving average on a daily time frame, it would be a huge buy signal."
Volumes at cryptocurrency exchanges have jumped, with Coinbase, Bitstamp, and Bitfinex combined seeing a 19% bump in 24-hour exchange volume, according to data aggregator CryptoCompare.
Binance CEO Makes Rare Price Prediction On When To Buy Bitcoin
Bitcoin, along with the surging wider cryptocurrency market, has had an incredible start to the year.
The bitcoin price has rallied around 50% since January 1, with some smaller cryptocurrencies making surprise triple-digit percentage gains, and many bitcoin bulls think it still has further to go—though problems could be on the horizon.
Now, Changpeng Zhao, the widely-respected founder and chief executive of the world's biggest bitcoin and cryptocurrency exchange Binance, has broken his rule against market forecasting to predict "the bitcoin price will likely increase."
"I personally believe the halving has not been priced in," Changpeng Zhao, often known simply as CZ, told bitcoin, cryptocurrency and blockchain video news site BlockTV this week, adding he "doesn't usually give market predictions" because he will be wrong "50% of the time."
Bitcoin traders and investors have begun gearing up for the looming May bitcoin halving event, among other positive bitcoin developments expected this year, when the coin reward for mining new bitcoin blocks is scheduled to drop from 12.5 bitcoin to 6.25 bitcoin–cutting the supply of new bitcoin coming onto the market by half.
There have already been two bitcoin halvings since bitcoin launched in 2009, one in 2012 and another in 2016. Bitcoin halvings are scheduled to continue roughly once every four years until the maximum supply of 21 million bitcoins has been generated by the network, something that won't happen until well into the next century.
Whether the upcoming bitcoin halving has been "priced in" by the market has become a controversial issue among investors. Generally, in well-developed markets, equity, commodities and currencies are priced based on future expectations—suggesting that as bitcoin traders and investors are aware of the May halving, the price will have already made the gains related to it.
CZ disagrees, however, telling BlockTV: "The market is not efficient. Most people don't get information quickly. People need a lot of time to let concepts sink in and adjust."
Many are hoping the 2020 bitcoin halving will see a repeat of the last cut to supply. Bitcoin prices doubled in 2016 and soared 13-fold the following year.
However, CZ warned that "historic events do not predict future events, so don't take that too literally," but explained the bitcoin halving will mean "it costs miners almost double what it does now to produce one bitcoin. Psychologically, those miners won't be willing to sell below that price."
"New bitcoin coming to market will be severely limited and at the same time we're seeing more users and traders coming in."
"Economic theory tells us that the bitcoin price will likely increase but this is just the theory and hard to predict," CZ said, adding he's feeling "pretty positive."
Meanwhile, the number of people searching Google for the term "bitcoin halving" has been steadily rising along with the bitcoin price.
Analysts at Arcane Research found last month that an increase in searches could be a sign bitcoin's halving will recapture the wider public interest in bitcoin and crypto that catapulted the bitcoin price to around $20,000 in 2017.
Many other bitcoin and cryptocurrency market watchers share CZ's enthusiasm, though some think it could be other factors that push up the bitcoin price.
"I still think that bitcoin will hit $100,000 by end of December 2021," Anthony Pompliano, the cofounder of bitcoin and crypto investment group Morgan Creek Digital, said last month, pointing to bitcoin's "fixed supply" and "increasing demand" as the reason for bitcoin's performance.
Elsewhere, others are not so upbeat—with the the chief executive of China-based investment advisory group RockTree Capital last month forecasting we could see the bitcoin price dip.