"Cryptocurrency is a great idea" – Ron Paul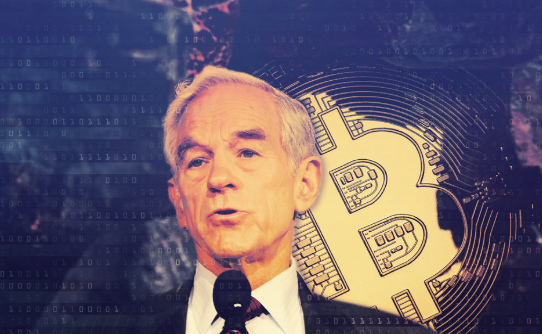 During a recent "Squawk Alley" interview, Former Republican congressman and presidential candidate, Ron Paul- discusses how he is in favor of cryptocurrencies as well as block change technology. Apparently, he enjoys competing currencies and believes they are a good idea. 
He also believes that the governments only have the right to step in to prevent fraud from taking place. In the interview, Paul states that, "the government has a role. And if somebody has a case that there is fraud, I think it should be investigated." Paul then goes on to state that what he wants to do "is legalize the freedom of choice, absent blatant fraud." Agreeably so, this is exactly the type of perspective that the crypto world needs.
Throughout the interview, Paul compares crypto to gold in many ways. He points out how both assets are competing with traditional fiat money. He discusses how our government has never been "very tolerant of competition, and they're not even tolerant with using the Constitution to compete with the fiat dollar. Because gold and silver, you can't use it." 
This isn't the first time that Ron Paul has discussed his views on crypto. Back in 2014, the Former Republican Congressman displayed his concerns about the foundation of crypto and Bitcoin. However, he acquired a bearish pro-crypto outlook on the future of fiat money. Paul believes that the dollar won't last long as "they all self-destruct." According to Paul, the only competition for the dollar is the euro and yen- which "isn't any good."
Bitcoin Is Skyrocketing As Investors Panic About Coronavirus
Worries about the rapid spread of the coronavirus is one factor boosting bitcoin, an asset that often has gone up when investors are nervous. But it isn't the only factor helping to push bitcoin higher.
"The recent bitcoin rally can be attributed to ongoing economic uncertainties," said Shaun Djie, CEO of digital token company Digix in comments e-mailed to CNN Business.
Coinbase CEO reveals his top crypto predictions for the next decade.
Prominent crypto personality and CEO of Coinbase Brian Armstrong has revealed the top trends which he believes will define the next decade of blockchain technology.
Outlining 11 areas of development for blockchain and cryptocurrency during the 2020s, Armstrong predicts that blockchain will reach one billion users by the end of the decade, and also sees a future where governments make a mass move into crypto.
Armstrong predicts that over the course of the decade, new layer-two scaling solutions will be developed that may increase blockchain scalability by "several orders of magnitude", which would allow decentralised applications (dApps) to be developed more rapidly.
Discussing scalability challenges, Armstrong said:
"Just like broadband replacing 56k modems led to many new applications on the internet (YouTube, Uber, and so on), I believe scalability is a prerequisite for the utility phase of crypto to really get going."
Armstrong also addressed issues of privacy, predicting that a privacy coin would emerge during the 2020s which would attract mainstream adoption, and he also shared that trading and speculation would give way to real utility for blockchain assets.
CBDCs in the spotlight
Interestingly, Armstrong also included central bank digital currencies, or CBDCs, in his predictions for the next decade.
He argued that while Facebook's Libra coin had largely been met with derision from the global regulatory community, other digital fiat currencies were gaining traction.
Principal among these new CBDCs is China's digital yuan, which Armstrong says has left the US playing catch up, exploring new ways to digitise the dollar.
However, Armstrong argues national-level CBDCs may not be the promised digital currencies of the future:
"I think we will then see basket digital currencies come out, either by a consortium like Libra or CENTRE, or possibly the IMF itself."
Billionaire flippening
Armstrong's last prediction is based on what he terms the "billionaire flippening". The Coinbase CEO predicts a scenario where BTC will reach $200,000 and more than half of the world's billionaires will have their fortunes in crypto.
This theory was made popular by Polychain Capital founder Olaf Carlson-Wee and angel investor Balaji Srinivasan, who are good friends of Armstrong.
Discussing the potential effects of such a scenario, Armstrong shared:
"It would mean that more pro-technology people will have access to large amounts of capital in the 2020s. Presumably, this will increase the amount of investment made in science and technology, and I think we'll also see more crypto folks turn to philanthropy."
Despite Coinbase's role as a trading platform and exchange, Armstrong has long been a proponent of blockchain utility, and has previously indicated a wish to move beyond trading and drive innovation.
The post Coinbase CEO reveals top crypto predictions for the next decade appeared first on Coin Rivet.
Will A War With Iran Send Bitcoin (BTC) To The Moon?
It behooves a speculator to speculate, and nothing gets the attention of the speculator more than the classic market catalyst of "war in the Middle East." So last night's U.S. strike, killing Iranian General Soleimani, is the sort of event that gets markets moving.
As one might expect, oil jumped and so did gold. Oil is up 3% and gold jumped 2%.
In this new world there is a third safe haven asset, bitcoin (BTC). It is up 5%.
Here is a chart of that action: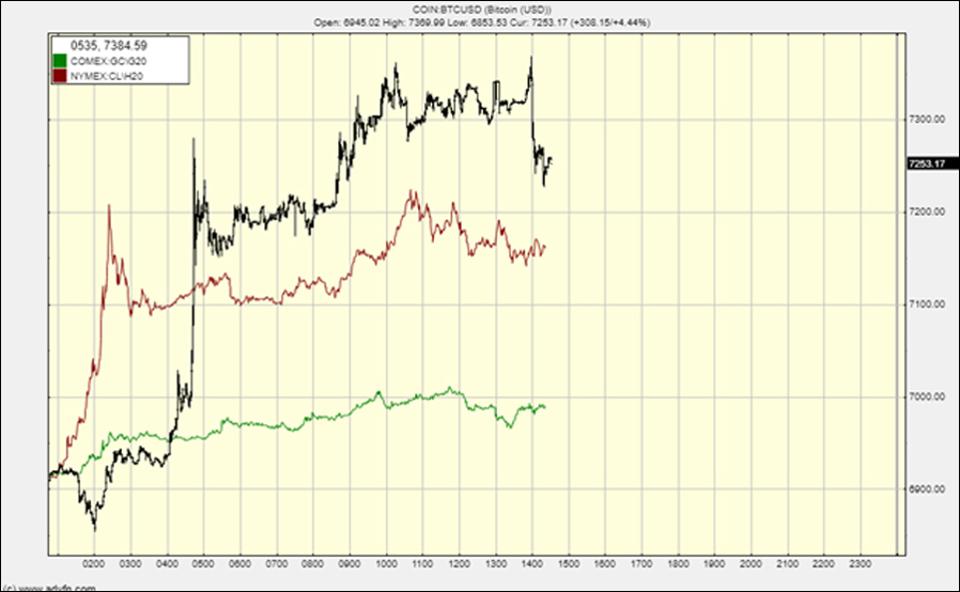 This is a very interesting chart because it shows the global professionals reacting to the news much faster than the private traders and it might be suggested this hike is the result of Middle Eastern retail piling into BTC as a flight to safety rather than the relatively non-existent institutional money.
In any event, bitcoin has the most beta in this situation and what's more there appears to be plenty of time to get your trade on in response to the news.
This, of course, is a gift to all skilled traders, a three-hour warning to buy.
Longer term, however, it is clear to see that in instances where there is trouble in capital controlled countries like Iran and China, bitcoin will be a key asset when times get sketchy.
As such, for those speculators who think of gold and oil as the place to trade when war in the Middle East is on the rise, then bitcoin is the place to be.
For those wanting to trade what might be a U.S./Iran escalation, bitcoin is the place to do your thing because while there are trillions in gold and oil to suck up demand, there is only a smattering of bitcoin to take the sort of buying surge a country like Iran could create were the situation to spin up into a large scale conflict.
Bitcoin is the best place for flight capital and haven capital for those in Iran wishing to protect their assets, and that alone is enough to drive Bitcoin back towards its previous and all-time highs. Then there is the exaggerated Beta of Bitcoin that will draw in the global speculators and their wall of money, so that in an extended and fraught US/Iran conflict only one thing is certain about the price of Bitcoin and that is, it will be far higher than it is now.