Have you prepared for the Tron TRX Mainnet Launch?
What you need to know to prepare for the Tron public blockchain migration
Tron (TRX) is currently in the process of moving from the Ethereum Blockchain to their very own independent Blockchain, which is a very big step in the progression of their platform. As of May 31, 2018 the Tron Foundation officially launched the "Mainnet" migration from ERC-20 to the TRX-20 Token but will reach a significant milestone on June 25th when the Tron network will be functioning on its own and will no longer rely on the Ethereum Blockchain to support its transactions and smart contracts.
It is important to note that all Tron coin transactions will be frozen from June 22nd to June 24th and the main net will officially become independent on June 25th, 2018.
Is your Tron safe?
In short, Yes. If your Tron is sitting in a reputable exchange like Binance, Bitfinex or Bittrex for example (See the list below for all currently supported exchanges) then your your Tron will automatically be updated from the old ERC-20 token to the new TRX-20 standard token.
If you are unable to withdraw your TRX from the www.tron.network site, you can contact TRON token holder support to submit a request for withdrawal. This support system will be available until December 31, 2018.
What does all of this mean for you?
If you have your Tron sitting on an exchange that does not support the TRX Mainnet then you will need to transfer your token into a exchange that does support the migration in order to swap from ERC20 to official TRX20. (List of exchanges below)
If you have your Tron sitting on a secure wallet or online wallet then you will need to transfer it back into one of many specific exchanges in order to have your Tron converted from ERC-20 to TRX-20. (List of exchanges below)
NOTE: the coin swap will be a 1:1 ratio so you will still have the exact same amount of Tron that you did before.
Exchanges that currently support the new Tron TRX-20 Token
Bitbns, Bit-Z, Bibox, Binance, LBank, Bitfinex, BitoPro, BitForex, Bitthumb, Bitkop, Bittrex, Bixin, Bitpie, Coinegg, Liqui, Coinnest, Coinrain, Cointiger, Dragronex, gate.io, Huobi, Lbank.io, Liqui, OEX, Okex, OTCBTC, RightBTC, Upbit, Zebpay, WazirX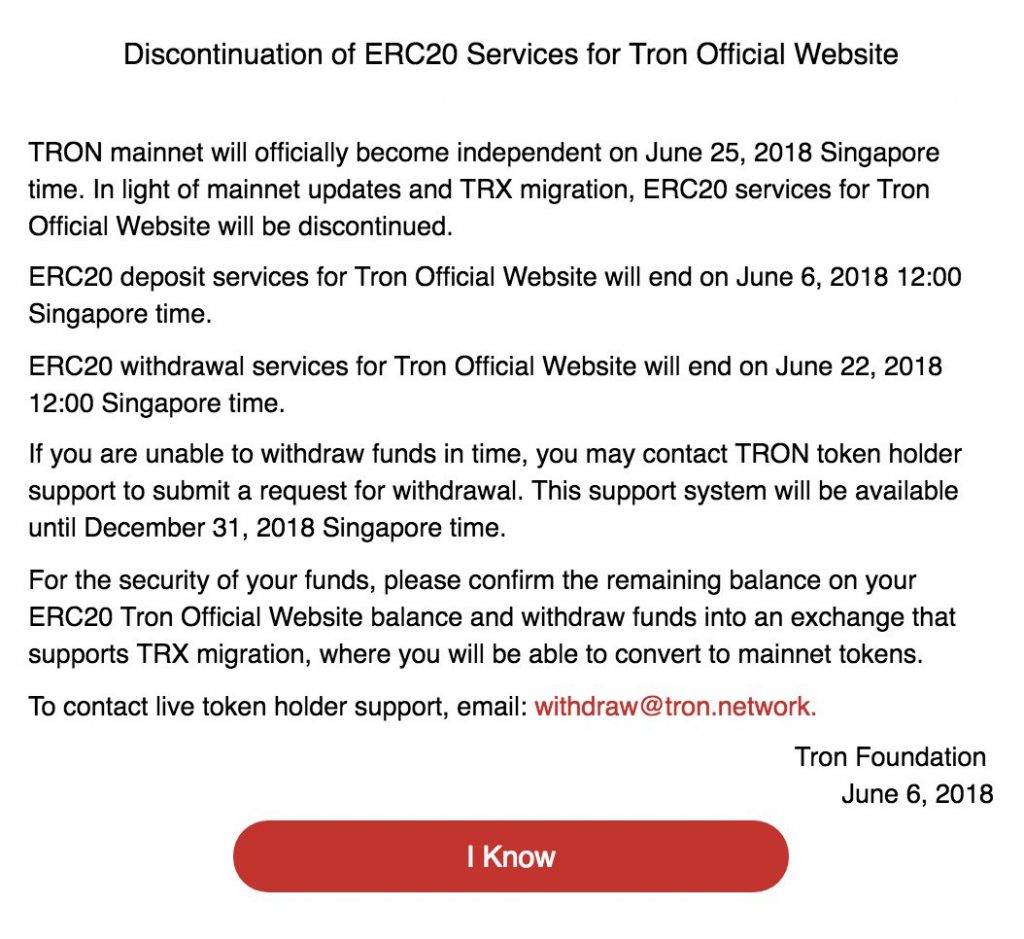 IRS Coming For Your Crypto, Specific Crypto Question Added To 2019 Tax Forms
The IRS wants to know whether you traded cryptocurrency in 2019, a question it had never overtly asked taxpayers in the past.
In a new report on Monday covering fiscal 2019, the agency listed cryptocurrency and the gig economy as two key "emerging compliance areas that require attention" by the IRS. For crypto, that attention is taking the form of a new question on the 2019 Form 1040 (for additional income).
The question is at the very top of the form, and reads: "At any time during 2019, did you receive, sell, send, exchange or otherwise acquire any financial interest in any virtual currency?"
watch out crypto tax evaders – the IRS is coming for you with a mean new checkbox pic.twitter.com/Fi9qrAy5bv

— 𝘽𝙄𝙇𝙇 𝙎𝙒𝙀𝙀𝙏 (@billsweet) January 3, 2020
The IRS already had official guidance on cryptocurrency, first posted back in 2014: the agency classifies cryptocurrency as property, rather than as currency, and thus taxpayers would treat crypto selling as capital gains (or losses) and disclose it on Form 8949—if you choose.
In the past, the common attitude in crypto land toward disclosing crypto gains on your taxes was that there was little to gain from doing so—you'd risk an audit if you did, and would likely fly under the radar if you didn't.
Now the IRS is getting more serious.
The phrasing of the question is also creating some confusion, since it mentions not just selling and receiving crypto, but also sending or exchanging it. That prompted some crypto folks on Twitter to wonder whether simply sending bitcoin from one digital wallet to another requires disclosure on your taxes. That answer is no. In an extensive FAQ about virtual currency transactions on its website, the IRS specifies, "If you transfer virtual currency from a wallet, address, or account belonging to you, to another wallet, address, or account that also belongs to you, then the transfer is a non-taxable event."
The IRS, in its report this week, also disclosed that in 2019 it sent "educational letters" to more than 10,000 taxpayers "who may have failed to properly report virtual currency transactions." And the IRS cautions: "Virtual currency, also called crypto currency, will remain an important focal point for the IRS in 2020."
This article originally featured in Yahoo Finance.
Is The IRS Coming For Your Secret Crypto Stash?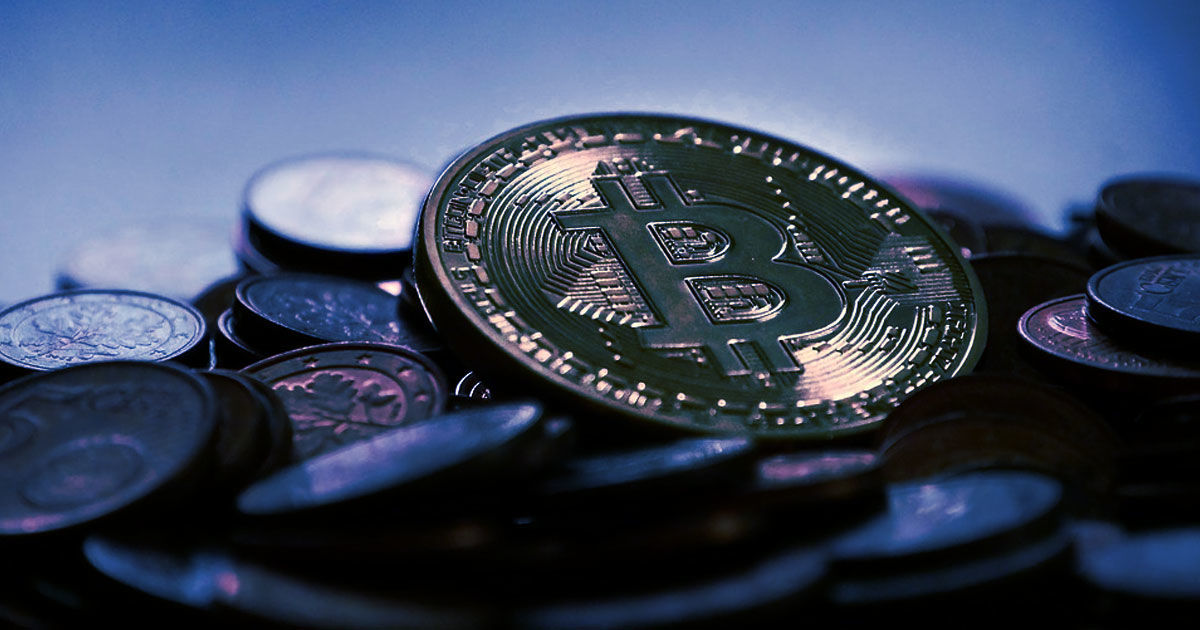 Whether we like it or not, the IRS may be coming for our secret crypto stashes. According to a recently leaked internal training guide, in order to locate people's secret cryptocurrency stashes, the IRS may start sending subpoenas to tech companies. 
In order to help protect yourself and your stash, we recommend you check out the full guide. Initiated by Laura Walter, a CPA, the guide showcases an assortment of tactics that the IRS will be using to track down and detect undisclosed cryptocurrency. Some of these tactics include obtaining bank records as well as app download history and activity.
Just last month, the slides were presented to the staffers of the IRS at an event at the World Bank in Washington D.C. It has also been noted that the IRS will be presenting the training guide to law enforcement agencies as well as other partners from countless countries around the world. 
This particular guide goes over the basic concepts and definitions surrounding the cryptocurrency world. It also outlines the tactics the agents will be using to track down hidden wallets. This includes social media monitoring as well as credit card statements, PayPal activity, bank statements, etc. 
For those who are concerned about protecting their crypto stash, it is important to be informed about the actions of the IRS and their planned tactics. Awareness is key. Check out the guide and protect your assets!
DOGECOIN Gets Listed On Binance, Skyrockets 30%!
Major cryptocurrency exchange Binance announced that today it will list dogecoin (DOGE) in a post on its website on July 5.
Starting at noon UTC today, the following dogecoin pairs will start being traded on the exchange: DOGE/BNB, DOGE/BTC, DOGE/USDT, DOGE/PAX, and DOGE/USDC. Furthermore, users can already deposit their dogecoin on the exchange in preparation for the trading.
As of press time, it looks like the coin in question reacted by reporting significant gains. DOGE is up about 31% over the last 24 hours, and most of the gains have been registered in about 30 minutes.
Interested In Purchasing DOGE Through Binance? Click Here To Sign Up For Binance!