MyEtherWallet Co-Founder Forks MEW to Start a New Company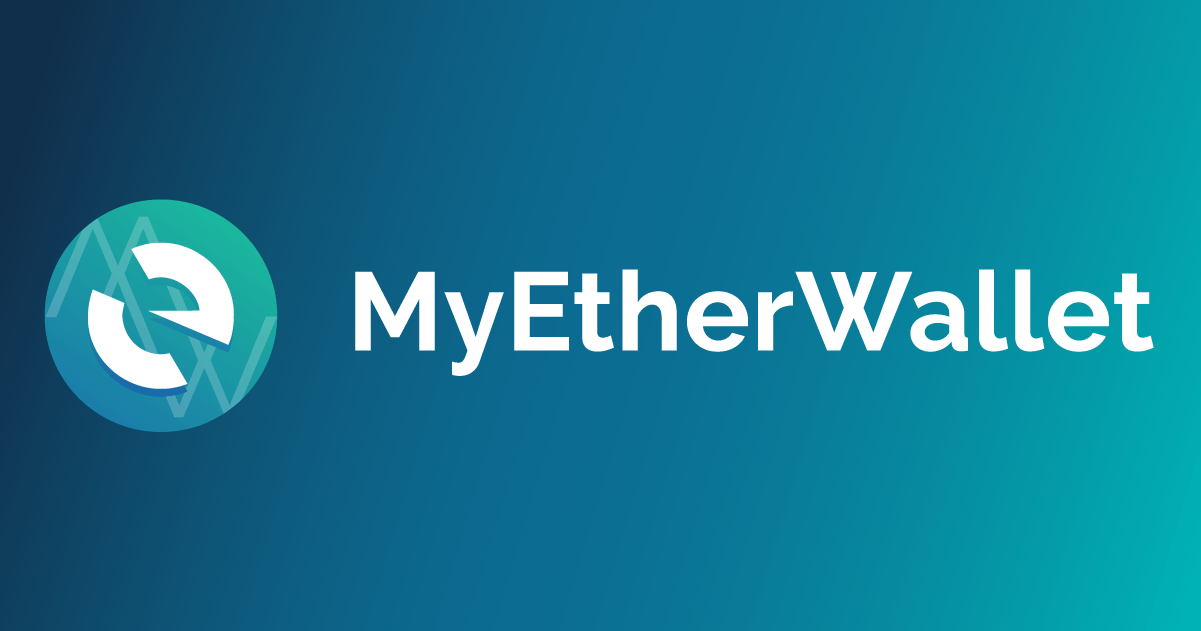 Co-Founder of
MyEtherWallet.com
(MEW) Taylor Monahan has announced a new wallet company called
MyCrypto.com
. MyCrypto is initially a forked version of MEW, but the company said it will launch an enhanced version of the website soon. Desktop and mobile apps are set to arrive in the next few months.
For those loyal to MEW do not fear, Co-Founder Kosala "Kvhnuke" Hemachandra remains committed to the product. He retains access to its GitHub repository, domain, and AWS instances.
Co-Founder Taylor Monahan said in a post:
"MyEtherWallet will continue to be online until it, for whatever reason, is not online. As we do for a number of products in this space, if we at any point determine the domain to be compromised, serving malicious code, or otherwise detrimental to the community, we will do what we can to warn the community and prevent use of that codebase and website. However, we wish the best for MyEtherWallet and hope it continues to be a viable product in this space."
While exact details of the split are unclear, it seems the two just had different visions of the path forward.
Monahan goes on to say in the full statement:
"MyEtherWallet LLC was sufficient for the early stages of growth. MyCrypto is designed with next-level scaling in mind from the beginning. The team assembled over the past 9 months and Taylor will now be building, providing support, educating, and ensuring the security of https://mycrypto.com and all future products."
What does this mean for the Crypto-Community?
You now have a choice between using MEW or Mycrypto. The Mycrypto team will be building and making improvements to https://mycrypto.com and the infrastructure behind it.
In an open letter to the community they state:
We will continue to do our best to help folks who have questions and need help, regardless of the product they are using, even if those products are not technically what the MyCrypto support box was designed for. Just as we have always attempted to answer questions and give guidance about specific tokens, other exchanges, other wallets, we will continue doing so for MEW.
The people who have helped you over the years via email or Twitter or Facebook or Skype or Slack or Reddit or Github will remain the same. However, these people will now be reachable via https://support.mycrypto.com/, [email protected] and the new social media platforms:
The new react & typescript codebase has been audited. Pending a few minor updates, public beta testing will commence in the coming weeks. This codebase will eventually serve live to https://mycrypto.com. We aim to launch desktop apps and then mobile apps in the coming months.
Until we are confident in the stability & usability of the new codebase, a forked version of the current version of MEW will continue to be maintained and improved on https://mycrypto.com.
Though the details of the split may not be clear, one thing is for sure the crypto-community has benefited from the introduction of MEW and will continue to do so. But for those looking for another great option, the Mycrypto team promises to bring innovation, reliability, and security for Ethereum (ETH) users.

How To Buy Ethereum Name Services (ENS) Token
What Is Ethereum Name Services (ENS) Token
Ethereum Name Services (ENS) is a domain name system that works on the Ethereum blockchain. The service provides human-readable names to wallet addresses and contracts on the blockchain. ENS was created by Nick Johnson in 2017, and it's currently under development as an open standard for registries of all types of names on public blockchains. No more copying and pasting long addresses. You can use your ENS DApp name to store all of your addresses and receive any cryptocurrency, token, or NFT. ENS will be an extremely important DApp in the WEB3 landscape.
On Monday November 9th 2021, the Ethereum Name Service (ENS) debuted its governance token, ENS, which will be used to promote the decentralization of the popular domain service for Ethereum wallets.
This post will explain how you can buy Ethereum Name Services (ENS) tokens on Binance to be a part of this growing registry!
Already have a .eth domain name? Claim your ENS airdrop tokens by going here https://claim.ens.domains/
Price Of Ethereum Name Services (ENS)
The current price of ENS is:


How To Buy Ethereum Name Services (ENS) On Binance
Step 1: Sign Up With Binance.
You will need a Binance account that has been verified and validated in order to buy, sell, and swap ENS on the BNB exchange. Click here to sign up for a Binance account!

Step 2: Deposit Fiat or Other Crypto Into Your Binance Wallet.
The best way to start buying and trading ENS on Binance is to connect a bank account to do an ACH transfer which is the quickest and has the least fees.
Second, connecting a debit card which is great for quick deposits of smaller amounts.
Lastly, you can do a domestic wire transfer which is the best for larger amounts of cash but also comes with wire fees.
Step 3: Buy Tether (USDT) or Preferred Trading Pair
Tether (USDT) is a token that was created to always be equal to $1 USD, which will ensure that the money you put into Binance will stay stable and not fluctuate drastically like most other cryptocurrencies. At this time ENS can be traded on Binance with BNB, USDT or BTC.
Step 4: Buy ENS On Binance
Now that you have your fiat converted to Tether (USDT), BNB or BTC, you are able to buy almost any crypto pairs that are available on Binance, including ENS Token.
Buy ENS Using Web Browser:
With USDT/BNB/BTC in your Binance account, you can now click Markets in the top menu bar, in the Search Coin Name box type ENS (Make sure USDT/BNB/BTC is selected in the options).
Second way is to go to your wallet, click the "Buy Crypto" button (Yellow button with the arrows), click where Bitcoin is selected then search and select ENS.
Lastly you can select "Buy Crypto" from the navigation menu and click where Bitcoin is selected then search and select ENS and buy. NOTE: If you aren't able to find ENS when you search for it, make sure you are using your USDT/BNB/BTC as a trading pair.
Buy ENS Using Mobile App:
With USDT/BNB/BTC in your Binance account, open the mobile app, select the Market tab on the bottom (the one with 4 bars), then select the USDT/BNB/BTC tab on top, then search for ENS using the search function on the top right.
The second way to buy on the mobile app is by selecting the Wallet tab (Middle button on the bottom that looks like a wallet), select the yellow "Buy / Sell" button, select "Buy Crypto", then search for ENS using the search function on the top right.
Step 5: Store ENS In Safe Place
If you plan on saving your ENS for a long period of time (More than a few months) then it is smart to store it in a wallet off of Binance such as Ledger, Trezor, or Exodus.
Follow Ethereum Name Services (ENS) :
ENS Coin Reddit https://www.reddit.com/r/ENSMarket/
ENS Token Twitter https://twitter.com/ensdomains
ENS Coin Stocktwits https://stocktwits.com/symbol/ENS.X
ENS Token Discord https://discord.gg/AskZbFx
Have you prepared for the Tron TRX Mainnet Launch?
What you need to know to prepare for the Tron public blockchain migration
Tron (TRX) is currently in the process of moving from the Ethereum Blockchain to their very own independent Blockchain, which is a very big step in the progression of their platform. As of May 31, 2018 the Tron Foundation officially launched the "Mainnet" migration from ERC-20 to the TRX-20 Token but will reach a significant milestone on June 25th when the Tron network will be functioning on its own and will no longer rely on the Ethereum Blockchain to support its transactions and smart contracts.
It is important to note that all Tron coin transactions will be frozen from June 22nd to June 24th and the main net will officially become independent on June 25th, 2018.
Is your Tron safe?
In short, Yes. If your Tron is sitting in a reputable exchange like Binance, Bitfinex or Bittrex for example (See the list below for all currently supported exchanges) then your your Tron will automatically be updated from the old ERC-20 token to the new TRX-20 standard token.
If you are unable to withdraw your TRX from the www.tron.network site, you can contact TRON token holder support to submit a request for withdrawal. This support system will be available until December 31, 2018.
What does all of this mean for you?
If you have your Tron sitting on an exchange that does not support the TRX Mainnet then you will need to transfer your token into a exchange that does support the migration in order to swap from ERC20 to official TRX20. (List of exchanges below)
If you have your Tron sitting on a secure wallet or online wallet then you will need to transfer it back into one of many specific exchanges in order to have your Tron converted from ERC-20 to TRX-20. (List of exchanges below)
NOTE: the coin swap will be a 1:1 ratio so you will still have the exact same amount of Tron that you did before.
Exchanges that currently support the new Tron TRX-20 Token
Bitbns, Bit-Z, Bibox, Binance, LBank, Bitfinex, BitoPro, BitForex, Bitthumb, Bitkop, Bittrex, Bixin, Bitpie, Coinegg, Liqui, Coinnest, Coinrain, Cointiger, Dragronex, gate.io, Huobi, Lbank.io, Liqui, OEX, Okex, OTCBTC, RightBTC, Upbit, Zebpay, WazirX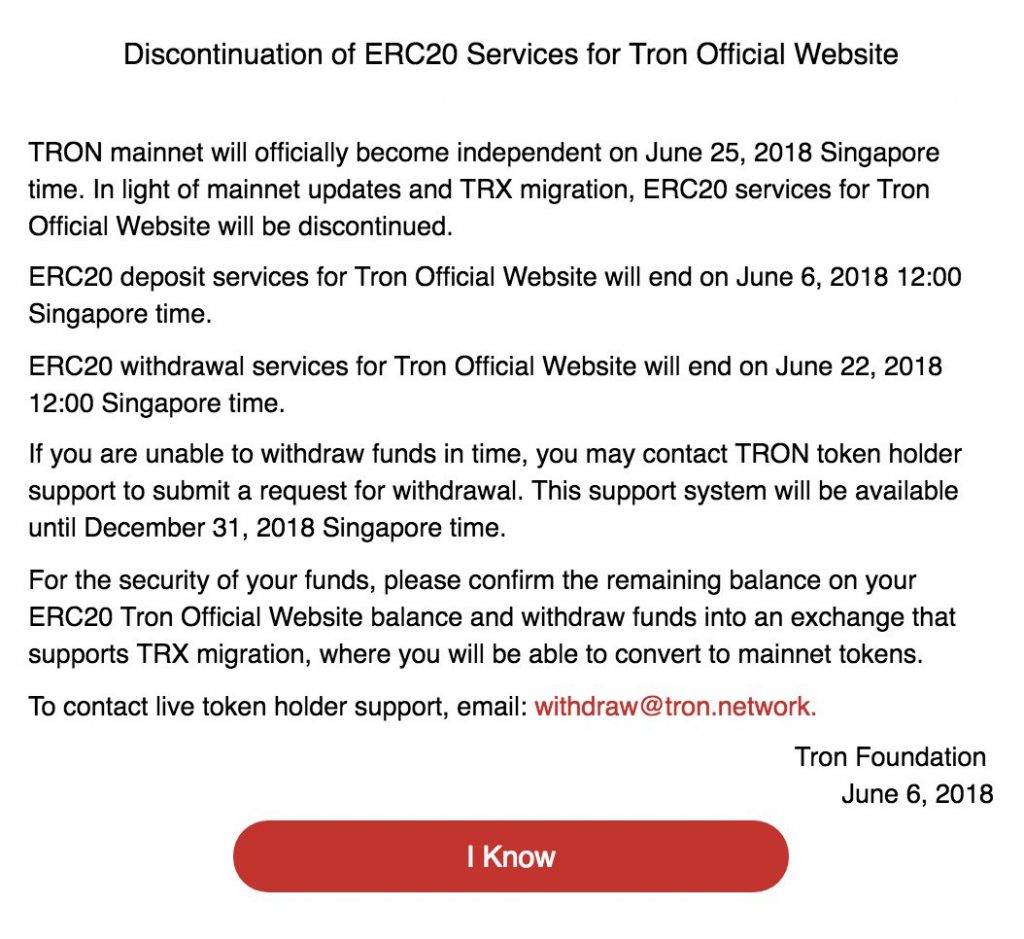 Not Many Good Grades For Cryptos
One ratings agency is applying grades to some cryptocurrencies and, for the most part, this is not a report card to be posted on your parents' refrigerator.
Weiss Ratings, an independent ratings agency that assigns letter grades to about 55,000 institutions and investments, including nearly all of the nation's insurance companies, banks, credit unions, stocks, ETFs and mutual funds, recently published grades on 93 digital currencies. That is a small slice of the overall alt-coin universe, which is home to more than 1,500 coins.
In its most recent report, a follow up to its initial grades released in January, Weiss Ratings upgraded bitcoin to a grade of B- from C+.
"Cryptocurrencies do not have to achieve an A grade to merit interest by investors. A 'B' or even 'B-' also qualify as the investment rating equivalent to 'buy.' At the same time, investors should not be overly alarmed by a 'C' rating. It is a passing grade; and for investors, implies the equivalent of 'hold,'" according to Weiss.
Inside The Grades
Just 14 of the cryptos graded by Weiss landed grades of B or B- while 54 received C ratings. Among those in the B category are EOS, ADA and DCR. Those with B- ratings include bitcoin, ethereum, IOTA, Ripple and STEEM, among others.
Among the well-known cryptos in the Weiss C category are bitcoin cash, dogecoin, litecoin and siacoin, among others.
"The new world of cryptocurrencies has delivered astonishing profits to investors and holds great promise for the future," according to Weiss. "Millions of new investors have rushed in. Hundreds of self-declared experts have appeared to advise them. But the market suffers from lax standards, murky operators, marketing hype, and periodic market crashes. It desperately needs the clarity that only robust, impartial ratings can provide."
The ratings agency offered a fair view of bitcoin.
"Bitcoin (rated C+) gets excellent scores for security and widespread adoption," said Weiss. "But it is encountering major network bottlenecks, causing delays and high transactions costs. Despite intense ongoing efforts that are achieving some initial success, Bitcoin has no immediate mechanism for promptly upgrading its software code."