Robinhood Enters Cryptocurrency
Robinhood App Saves The Day!
Due to high demand the no-commission stock trading app, Robinhood is entering the world of Cryptocurrency. As of January 25, 2018, Robinhood started allowing users to track the price, news and set up alerts on Bitcoin, Ethereum and 14 other top crypto coins, including Litecoin and Ripple. Starting in February, they will allow you to buy and sell Bitcoin and Ethereum without any added transaction fees. This is in contrast to Coinbase's 1.5 to 4 percent fees in the US.
The co-founder of Robinhood Vlad Tenev said:
"We're planning to operate this business on a break-even basis and we don't plan to profit from it for the foreseeable future"
"The value of Robinhood Crypto is in growing our customer base and better serving our existing customers."
By offering this service they stand to expand well beyond the 3 million users they already have. Unlike Coinbase and other apps, Robinhood gains advantage because cryptocurrency is not their primary business model. This allows them to run this service on a break-even basis, giving the trader a break on transaction fees. The announcement stands to further legitimize the cryptocurrency community because it will marry the traditional stock, ETF, and option trading with cryptocurrency in a singular app.
SIGN UP FOR YOUR FREE ROBINHOOD ACCOUNT NOW
How Will it Work?
You will be able to instantly transfer up to $1000 from your connected bank account (more if you have a Gold membership), with the ability to add more funds through the slower ACH transfer. For smaller traders, this could mean the end of missing out on low prices while you wait for an ACH transfer.
When a buy or sell order is placed, Robinhood will give you an estimated price. It then connects to various trading venues, exchanges, and market centers to find the lowest price. To counter market volatility, Robinhood places what they call a "collar" around your trade. This means if it doesn't execute it at close to the estimated price, it waits for the price to return or lets you know. If the coin price skyrockets or plummets, you can place limit orders to set a price where you automatically buy or sell.
Coins you can currently track on Robinhood;
Bitcoin

Ethereum
Bitcoin Cash
Litecoin
Ripple
Ethereum Classic
Zcash
Monero
Dash
Stellar
Qtum
Bitcoin Gold
OmiseGo
NEO
Lisk
Dogecoin
However, only BTC and ETH will be available for trading in February with future plans to add more.
The co-founder of Robinhood Vlad Tenev also said:
"We're extremely selective about the cryptos we're making available on the platform"
"We're introducing those first because these are the most mature coins that people are trading these days. Multiple times people have declared them dead and they've come back stronger than ever."
The company will also add new two-factor authentication options, including integrations with authenticator apps to ensure people don't get their wallets stolen and dumped.

Interview with "CZ -The most powerful man in Crypto" talks Binance, Mining & Lifestyle
Here is @cryptomanran's recent interview with CZ, the founder & CEO of Binance, the largest and most powerful crypto exchange in the world. Is CZ the most powerful man in crypto right now? Comment below and let us know what you think!
Have you prepared for the Tron TRX Mainnet Launch?
What you need to know to prepare for the Tron public blockchain migration
Tron (TRX) is currently in the process of moving from the Ethereum Blockchain to their very own independent Blockchain, which is a very big step in the progression of their platform. As of May 31, 2018 the Tron Foundation officially launched the "Mainnet" migration from ERC-20 to the TRX-20 Token but will reach a significant milestone on June 25th when the Tron network will be functioning on its own and will no longer rely on the Ethereum Blockchain to support its transactions and smart contracts.
It is important to note that all Tron coin transactions will be frozen from June 22nd to June 24th and the main net will officially become independent on June 25th, 2018.
Is your Tron safe?
In short, Yes. If your Tron is sitting in a reputable exchange like Binance, Bitfinex or Bittrex for example (See the list below for all currently supported exchanges) then your your Tron will automatically be updated from the old ERC-20 token to the new TRX-20 standard token.
If you are unable to withdraw your TRX from the www.tron.network site, you can contact TRON token holder support to submit a request for withdrawal. This support system will be available until December 31, 2018.
What does all of this mean for you?
If you have your Tron sitting on an exchange that does not support the TRX Mainnet then you will need to transfer your token into a exchange that does support the migration in order to swap from ERC20 to official TRX20. (List of exchanges below)
If you have your Tron sitting on a secure wallet or online wallet then you will need to transfer it back into one of many specific exchanges in order to have your Tron converted from ERC-20 to TRX-20. (List of exchanges below)
NOTE: the coin swap will be a 1:1 ratio so you will still have the exact same amount of Tron that you did before.
Exchanges that currently support the new Tron TRX-20 Token
Bitbns, Bit-Z, Bibox, Binance, LBank, Bitfinex, BitoPro, BitForex, Bitthumb, Bitkop, Bittrex, Bixin, Bitpie, Coinegg, Liqui, Coinnest, Coinrain, Cointiger, Dragronex, gate.io, Huobi, Lbank.io, Liqui, OEX, Okex, OTCBTC, RightBTC, Upbit, Zebpay, WazirX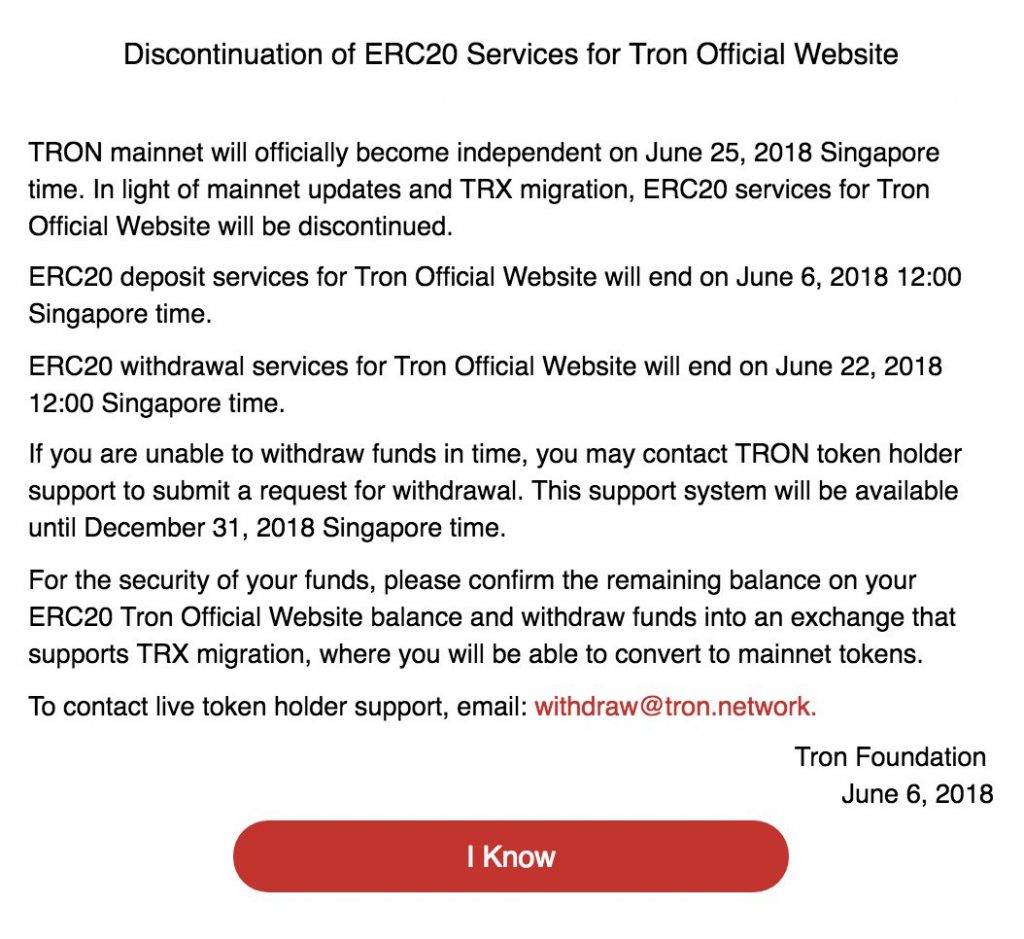 CME Launches Ethereum Indexes
CME Group, one of the largest exchange operators in the U.S., said Monday it is launching two indexes based on ethereum. Ethereum is the second-largest digital currency behind bitcoin.
On Monday, CME "launched the CME CF Ether-Dollar Reference Rate (Ether Reference Rate), which will provide a daily benchmark price in U.S. dollars at 4 pm London time, and CME CF Ether-Dollar Real Time Index (Ether Real Time Index), which will allow users access to a real-time Ether price in U.S. dollars," according to a statement issued by the exchange operator.
CME was the second US-based exchange operator to launch bitcoin futures last December, having done so after debuting indexes based on the cryptocurrency. However, CME said it is focusing on its ethereum indexes for the time being, indicating ether futures are not in the works.
Ethereum prices rose modestly Monday, sending its market value to $73.28 billion, or less than half of that of bitcoin.
The cheapest and most efficient way to obtain Ethereum Classic (ETC) is to first purchase Litecoin or Bitcoin through Coinbase (Currently Ethereum offers a much lower transfer and exchange fee than Bitcoin.)
More Index Details
"Both the Ether Reference Rate and Ether Real Time Index will be calculated by Crypto Facilities and will be based on transactions and order book activity from two major cryptocurrency exchanges: Kraken and Bitstamp," according to CME. "The reference rates are available today on CME Group and Crypto Facilities websites and will be distributed on the CME Group Market Data Platform beginning June 4, 2018."
CME also offers the CME CF Bitcoin Reference Rate (BRR) and CME CF Bitcoin Real Time Index (BRTI).
The exchange operator "said it has no plans right now for ethereum futures, although the structure of the indexes is very similar to the ones behind CME's bitcoin futures," according to CNBC.
Some market observers derivatives, such as futures, linked to ethereum will become a reality because the interest is there to support those products, but the decision to bring ethereum futures to life could take some time.